Outstanding comfort, stylish silhouette sweatshirts
Informal logo of KRIFF MAYER ( cliffmeyer ) and rough silhouettes appeared attractive pullover is 2013 SS! This appeared every time I changed the print design, this time from the emblems printed a pop to the animal print ♪ hem was before rising further, it became flat. Colorful back hair material as well as last time. Loose silhouettes are gone and be taken plenty of cute raglan sleeves design, Yul with somewhere feel of cuteness. Because the narrow silhouette towards the hem Yul is 着こなせます under the impression the fresh silhouette.
---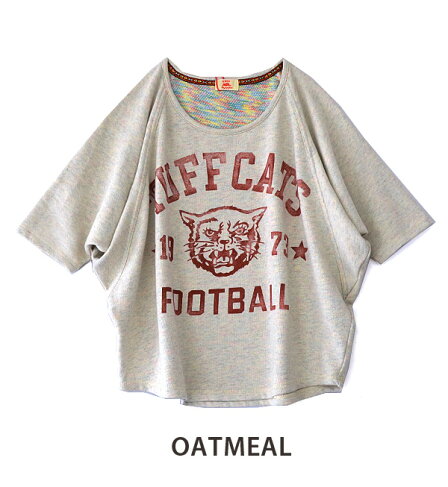 Notation size
"M-size" (one size)
79 – 87 Cm bust 154-162 cm tall
Actual size
Chest 122 cm length approx. 51-56 cm (measured from side - Center / shoulder)
Sleeve length 44 cm sleeve 23 cm 102 cm waist hem around approx. 98 cm
22 Cm low-cut neckline depth 12 cm
* This item is not represented is the size of the shoulders, sleeves, armholes tailoring on the switch of the shoulder is not design for the.
* Above sizes are our flat place exact size it is. Is different from the notation size value nude ( JIS standard size ) merchandise tags, etc. Click here for details.
Material
68% Cotton 32% polyester
Washing instructions
Production country
Made in China
Lining
Without
Stretch fabric
The stretch a lot
Sheer fabric
May seem almost 透けません to show through in the light
Color
Oatmeal ( Dark because of ivory x red tea )
モクグレー ( thin gray is gray × dark grey )
Charcoal ( faded black like charcoal x ivory )
Navy ( somewhat faded Navy × yellow )
* ( ) in a body x is a color print.
* Common in the back color is light blue, pink, green, yellow, etc. Also, oatmeal through colors on the back of the table and looks.
Related products
There is a colorful back hair material the same sweat pants
KRIFF MAYER ( cliffmeyer ) product list
Points to note
▼ Properties prone to pilling ( hairball ). Please wear where it is and when to remove with scissors.
• Hook, please note so easy catching nature and friction and rough surface, such as during insertion and removal, the accessories, belt and surrounding wall and caught.
▼ remains wet for a long time, put in wet friction (friction in particularly wet) and sweat and rain: and other apparel to decontamination if so please with your mind. Also, wash may dye when washing to separate other things.
▼ may shrink slightly by washing on the characteristics of the material in the oblique line (State looks twisted the entire product) discoloration.
• By repeated washing with water or cleaning, easy to print is not permanent, or more, to be rubbed and dropped somewhat thinner. Also please avoid ironing to the printed piece. Enjoy texture of its own products, but may have individual prints tints.
▼ Please check also comes with tag described before handling.