Race and ジョーゼットシ von primping dress
Switched in the bi-coloured lace neckline and chic piece. Body the body Shak boobs and airy dough feeling and touch ジョーゼットシ phone to use. In the airy atmosphere overextending elegance of the adult fills the air.
Is the demurely small sleeve, in width and is, contrary to the appearance of relaxed comfort. Large drape was born not only will produce a portrait effect, body lines, dew crocodile is just and. Is the design because the cloth is race part opaque from the stitch. ( * for sheer cloth. Inner is required )
Daley's 'a little dressed' as item does not, of course, pale party scene.
---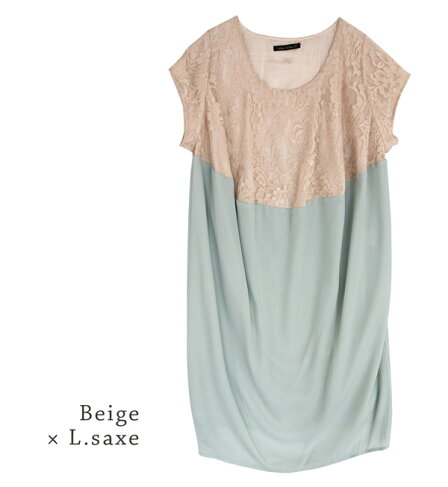 Notation size
"One size fits all."
Actual size
94-84 Cm length ( before-after ) chest 102 cm, shoulder width 29 cm
Sleeve length approx. 11 cm sleeve length 26 cm arm holes approximately 51 cm cuff approximately 36 cm
West 106 cm hem around 112 cm
Approx. 21 cm wide-cut neckline depth 13 cm
* Above sizes are our flat place exact size it is. Is different from the notation size value nude ( JIS standard size ) merchandise tags, etc. Click here for details.
Material
100% Polyester
Washing instructions
Production country
Made in China
Lining
Polyester 100% (solid body with similar colors in glossy to stretch the dough)
* Skirt only

Stretch fabric
Do not stretch
Sheer fabric
Slightly sheer so inner is required
Color
Beige × light SAX ( slightly dark beige × spiders density was Mint Green )
Ivory / blue ( a yellowish ivory x dark because of blue )
Ivory * Navy ( Ivory with light yellow x dark order of the Navy )
Mocha x black ( Mocha Brown with white x black )
* ( ) in a top-x is the color of the skirt portion
Points to note
• Race parts are hooked and so easy catching nature and during insertion and removal also friction with rough surface, such as accessories, belt, around the wall and caught Please note.
• This product is used very delicate material. Join the vigorous and strong force and open seams, eyes slippage has to nature (weaving yarn open slip eye).
▼ remains wet for a long time, put in wet friction (friction in particularly wet) and sweat and rain: and other apparel to decontamination if so please with your mind. Also, please wash the infection when washing you may share and other things.
▼ may shrink slightly by washing or cleaning on the characteristics of the material in the oblique line (State looks twisted the entire product).
▼ Please check also comes with tag described before handling.