York x front x back to design in different materials!
Different material switch from neckline yoke portion to the shoulder, chest, roughly Clocher race with one piece. I ripen in the front yoke and plain smooth plain cut and sewn the back slightly a shiny dot pattern fabric (unique: weaving to) the fabric x pattern color scheme design.
Cuffs attached to a wide width, and Yul! and wears fine atmosphere is only one piece. Denim shirt The thermostat Sneakers Fit and well dressed, with cute!
---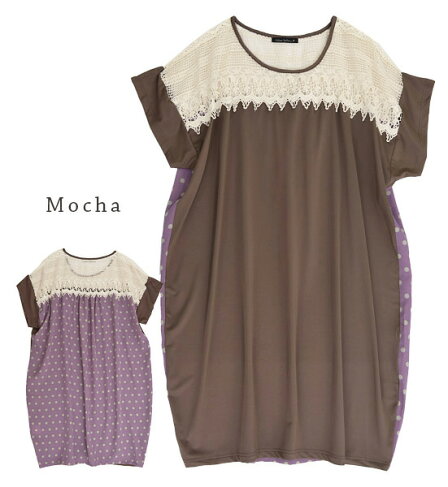 Notation size
"One size fits all."
Actual size
Ringtones shoulder width 58 cm chest 120 cm length 88 cm (measured from shoulder) sleeve length approx. 6.5 cm
Sleeve length approx. 35.5 cm armholes about 51 cm sleeve 42 cm waist: approx. 120 cm
Hem around 106 cm 20 cm low-cut neckline depth 12 cm
* Deformation design switching shoulders with pretty outside, so the shoulders, sleeves and armholes as referring to please. Also because the armholes are measure switching part is the arm size.
* The size is our open space is the exact size. May differ from the representation of the tags. For more information of the size Click here From.
Material
100% Polyester
Washing instructions
Production country
Made in China
Lining
Without
Stretch fabric
Solid parts: the good stretch
Dot portion: do not stretch
Sheer fabric
Lace: see-through from the stitch
Body: slightly sheer may
* Inner is required
Color
Mocha
( dingy Mocha Brown / Lilac / Ivory/ivory )
Gray
( Dark because of the grey/black x beige/ivory )
Black
( standard black and Mocha Brown x black / Dark Navy )
Dark blue
( pale blue / ivory old drab gray × black/ivory )
* ( ) color solid color and dot part color / race part is in the
Points to note
▼ your laundry with dry cleaning please.
• This product is used very delicate material. Join the vigorous and strong force and open seams, eyes slippage has to nature (weaving yarn open slip eye). Trap when wearing a belt, buckle and detachable watches, rings, etc. by the frictional strength of ground such as 10 minutes please be careful.
▼ remains wet for a long time, put in wet friction (friction in particularly wet) and sweat and rain: and other apparel to decontamination if so please with your mind.
▼ may shrink slightly by cleaning on the characteristics of the material in the oblique line (State looks twisted the entire product).
• Subject characteristics on the products, the dough taking positions just some individual differences nuances and attitude of the size, design, different images and facial expressions.
▼ Please check also comes with tag described before handling.