Adult general Tee tightly covered by floral,
Impressive color errand mature floral tiled,rivet and surge ( rivets and surge ) T shirts. It is a rough silhouette of the drop full width with sleeve, shoulder. Opal cutting touch and sew the spotty sheer sense of fun, and a little different from the usual floral Tee atmosphere ♪ blends nicely into the line of the body, so wear and refreshing.
---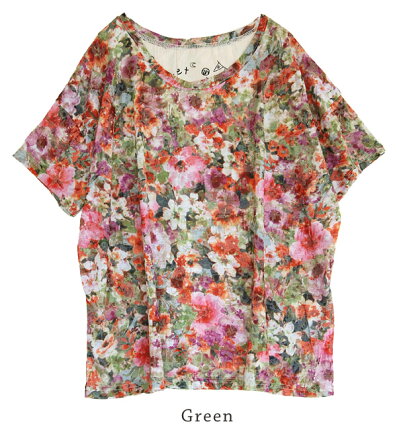 Notation size
"M-size" (one size)
Actual size
Ringtones shoulder 53 cm chest 110 cm length 57 cm (measured from shoulder) sleeve length approx. 10.5 cm
Sleeve length approx. 37 cm arm holes approximately 34 cm cuff approximately 31 cm waist 104 cm
Hem around 102 cm 20 cm low-cut neckline depth 9 cm
* Above sizes are our flat place exact size it is. Is different from the notation size value nude ( JIS standard size ) merchandise tags, etc. Click here for details.
Material
Body: polyester 65% cotton 35%
Separate fabric: cotton 100%
Washing instructions
Production country
Made in China
Lining
Without
Stretch fabric
The stretch a lot
Sheer fabric
Slightly sheer so inner is required
Color
Green Khaki green and dark orange
Gray (Thin black ink black, red, yellow etc)
Blue ( Royal Blue, bright purple, etc )
* ( ) in a pattern key is color

Related products
There is the same floral fabric tank tunic
Points to note
▼ Properties prone to pilling ( hairball ). Please wear where it is and when to remove with scissors.
• Hook, please note so easy catching nature and friction and rough surface, such as during insertion and removal, the accessories, belt and surrounding wall and caught.
▼ remains wet for a long time, put in wet friction (friction in particularly wet) and sweat and rain: and other apparel to decontamination if so please with your mind. Also, wash may dye when washing to separate other things.
▼ may shrink slightly by washing or cleaning on the characteristics of the material in the oblique line (State looks twisted the entire product).
• There may be characteristics on the products, take position of the fabric creates a pattern and nuance slight individual difference, different images and facial expressions.
• By repeated washing with water or cleaning, easy to print is not permanent, or more, to be rubbed and dropped somewhat thinner.
▼ Please check also comes with tag described before handling.