Sleeve pullover with Leopard print tulle.
rivet and surge ( rivet & surge ) From came along, "sweet!" a heterogeneous material T shirt. A spicy touch of 'MONSTER' logo on Leopard. But is a sweet tulle lace sleeve material. Solid color tulle with レオパードチュール, even solid color lining sleeve insides burst into volume. Contrary to a hard-looking form is very feminine. Body's NEP feeling with plenty of soft, sheer sewn material. Hem width you can afford the palms up and flap. Out gushes of affection, but the hem's cute Monster embroidery! Feel playful.
Excellent presence, corners and bottoms are so this one will lead to the dress code.
---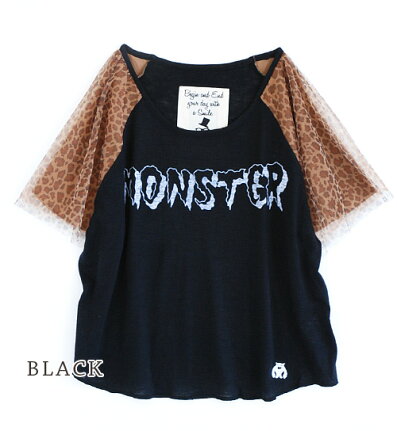 Notation size
"M-size" (one size)
Actual size
Bust 108 cm length approx. 54-57 cm ( aside-measure from the Center and shoulder )
Sleeve length 44 cm cuff 37-48 cm ( inner fabric parts-outer tulle piece )
Waist 104 cm hem around 108 cm
Approx. 26 cm wide-cut neckline depth 12 cm
* This item is not represented is the size of the shoulders, sleeves, armholes tailoring on the switch of the shoulder is not design for the.
* The size is our open space is the exact size. May differ from the representation of the tags. For more information of the size Click here I don't like
Material
Body: acrylic 52% cotton 28% viscose 10% polyester 10%
Sleeves: 100% polyester
Washing instructions
Production country
Made in China
Lining
Without
Stretch fabric
Body: as good as stretch
Sleeves: do not stretch
Sheer fabric
May slightly sheer
( so see-through light-colored part is especially recommended with inner the )
Color
Black ( standard black x White )
Off white ( yellowish off-white / black )
Pink beige ( for white NEP ended pink beige × black )
* ( ) in a body x is a color print and embroidery
* Color of the neckline is common and black
* Sleeves are black only from table fabrics in Leopard print tulle, tulle camel, camel, and other Leopard print tulle and black tulle, black fabric in order 3 layer is
* Sleeve Leopard print tulle colors are common in the ochre ground is Brown and black pattern

Related products
In the matching One piece Also available
Points to note
• This product is designed is designed on the dare not kill cut edge of the fabric, so repeated washing and wear increases cutting surface, the fray. If fray comes to mind where it is, be careful to remove with scissors. Also frayed hem is somewhat uneven in some.
▼ Properties prone to pilling ( hairball ), or in expressions such as NEP fabric pilling ( hairball ). Please wear where it is and when to remove with scissors.
▼ uses delicate fabrics, hook, please note so easy catching nature and friction and rough surface, such as during insertion and removal, the accessories, belt and surrounding wall and caught.
• Easier to fall out and print is not permanent, or more, to be rubbed, also repeat the washing and cleaning by slightly thinner. Also please avoid ironing to the printed piece.
▼ Please do embroidery pieces are prone to fraying due to friction and the trap, so wear and removal when the fold on watches & accessories-belts, etc..
▼ characteristics on the products, the dough taking positions just some individual differences, such as pattern and nuances, different images and facial expressions. Also does not match the pattern in the seam to necessarily.
▼ so time remains wet for a long time, put in wet friction (friction in particularly wet) and sweat and rain, other clothing to decontamination if you like!
▼ may shrink slightly by washing or cleaning on the characteristics of the material in the oblique line (State looks twisted the entire product).
▼ Please check also comes with tag described before handling.