Enjoy the stars and stripes pattern unique in the opal cutting.
Drawn by enjoying a sense of sheer spotty Opal cutting rivet and surge ( rivet & surge ) The stars and stripes design Tee. It is one layered three-dimensional sense of fun. Short silhouette is very easy to use. Back is long, has become the front hem. Afford in width without switching shoulder short sleeve Dolman. Is an easy layering and Maxi-length dress, ♪ is stars and stripes pattern on the back side, wear on the multimedia front.
---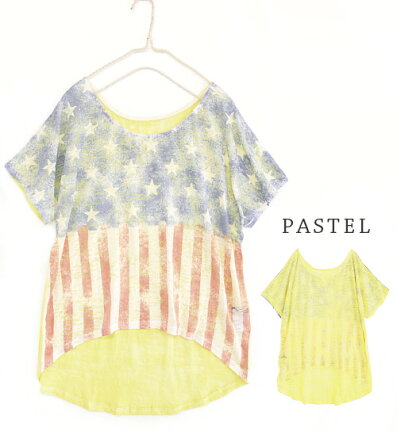 Notation size
"M-size" (one size)
Actual size
Chest 102 cm length approx. 52-69 cm ( front-measuring from the back and shoulders )
Sleeve length approx. 36 cm cuff approximately 31 cm waist: 94 cm
24 Cm low-cut neckline depth 11 cm
* This item is not represented is the size of the shoulders, sleeves, armholes tailoring on the switch of the shoulder is not design for the.
* The size is our open space is the exact size. May differ from the representation of the tags. For more information of the size Click here I don't like
Material
Cotton 65% polyester 35%
Washing instructions
Production country
Made in China
Lining
Without
Stretch fabric
The stretch a lot
Sheer fabric
See-through (inner is required)
Color
Pastel
( dusky blue and pink beige off-white x pale lemon yellow )
Standard
( Navy dull and dark red and off-white / off-white )
Monotone
( charcoal grey and dark order of グレーオフ White x black shallow )
* ( ) in a front print x back color

Related products
The other items of the stars and stripes pattern Click here
Points to note
• This product has Opal processed (melted some of the fiber and produce watermark). 毛羽立ちます by repeated washing and wearing. When shagging, please remove carefully with scissors.
• Easier to fall out and print is not permanent, or more, to be rubbed, also repeat the washing and cleaning by slightly thinner. Also please avoid ironing to the printed piece.
• This product is used very delicate material. Join the vigorous and strong force and open seams, eyes slippage has to nature (weaving yarn open slip eye). Trap when wearing a belt, buckle and detachable watches, rings, etc. by the frictional strength of ground such as 10 minutes please be careful.
• Subject characteristics on the products, take position of print and fabric creates a pattern and nuance slight individual difference, different images and facial expressions.
▼ Please check also comes with tag described before handling.