NEW version of popular ボタンマニア series riveting
rivet and surge ( rivet & surge ) Pet peeves ボタンマニア design In a girly gingham check shirt, was finished. From previous collar separated shirt this shirt design, basic, became the basic straight line from puff sleeve sleeve also.
Sheer t-shirt material, comfortable long season ♪ is a brooch depicting messages of GOOD LUCK in the callout type.
---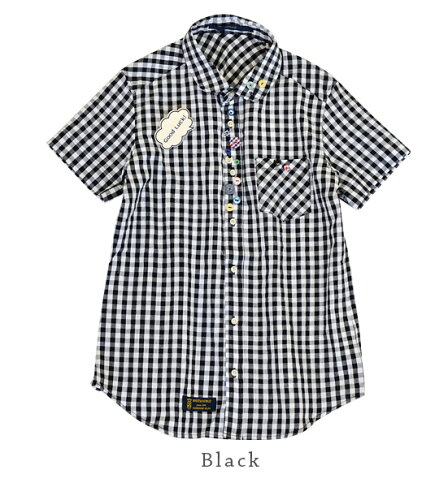 Notation size
"M-size" (one size)
Actual size
Chest 98 cm shoulder width 40 cm cm, length 66 cm cm, sleeve length 17 cm sleeve length 37 cm.
Armhole approximately 37 cm sleeve 35 cm waist: 98 cm hem around 100 cm
Approximately 15 cm wide-cut neckline depth 7 cm
Badge: 5 cm x 7.5 cm
* The size is our open space is the exact size. May differ from the representation of the tags. For more information of the size Click here I don't like
Material
100% Cotton
Washing instructions
Production country
Made in China
Lining
Without
Stretch fabric
Do not stretch
Sheer fabric
May somewhat transparent ( inner with the )
Color
Black ( Black standard x off white )
Saxe blue ( Dark because the light blue x off-white )
Green ( yellowish green × off-white )
Yellow ( standard yellow x off white )
* ( ) gingham color scheme is in
* Common in badge color is ivory x black

Related products
rivet and surge ( rivet & surge ) product list
Points to note
▼ button placement and type each one differs. Image is one example.
▼ so time remains wet for a long time, put in wet friction (friction in particularly wet) and sweat and rain, other clothing to decontamination if you like!
▼ Click on may be discolored when washing, because we avoid washing, please wash alone used the Internet.
• This product, on the characteristics of the material by washing and cleaning slightly shrinks the resulting diagonal line (State looks twisted the entire product).
• Product characteristics on the border pattern comes with necklace the dough taking positions just some individual differences, such as pattern and nuances, different images and facial expressions. Also does not match the pattern in the seam to necessarily.
• Delicate fabrics and embellishments we use. Add an intense exercise and super powers, or open seams eyes slippage Please note that when you wear properties (yarn has open slip eye) because we are. Also trap when wearing a belt, buckle and detachable when watches and accessories, etc. by the strength of friction ground such as pay attention please.
▼ Please check also comes with tag described before handling.