Of girly detail almost getting lumps floral print fabric dress
One piece floral Viera material delicately sewn material mainly, faintly seen brushed feeling used on both sides of the body. Drop sleeve attached to a very wide width shoulder; Creates gathers natural down, and flat rubber into Central high waist position.
Back side also switched to the floral Viera fabric yoke portion and both sides.
Because the length is longer, making a sharp 拾わず body, wear only in the Sub gone and only by wearing a OK! Code is very simple.
---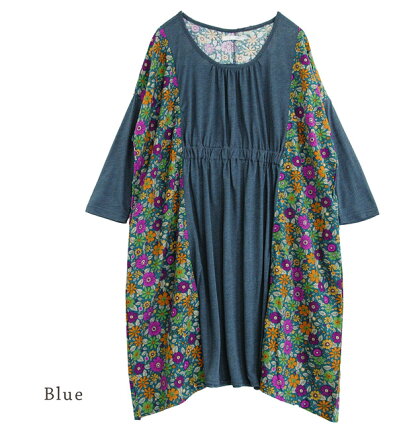 Actual size
Total length 86 cm chest 130 cm, shoulder width 67 cm sleeve length 29 cm
Armhole 36 cm sleeve 21 cm
West 126-158 cm ( Central only with rubber )
Hem around 196 cm 21 cm low-cut neckline depth 12 cm
* Above sizes are our flat place exact size it is. Is different from the notation size value nude ( JIS standard size ) merchandise tags, etc. Click here for details.
Material
Body: 100% cotton
Separate fabric: 100% polyester
Washing instructions
Production country
Made in China
Lining
Without
Stretch fabric
Body: do not stretch
Another cloth: stretch well
Sheer fabric
Main body: about 透けません
Separate fabric: there is sheer
* Inner is required
Color
Blue ( blue-x gonna thin Navy red-purple, Orange and yellow-green, yellow, beige, and moderate walks )
Black ( black / dark gray, light blue, Navy, red purple, beige and lime green and moderate )
Brown ( calm Brown x is light blue, blue, red and yellow-green, beige, and moderate モカグレー )
* ( ) in body of x is a pattern color / separate fabric color
Related products
The same floral fabric balloon tunic &スタンドカラーワン pieces also available
Points to note
▼ Properties prone to pilling ( hairball ). Please wear where it is and when to remove with scissors.
▼ remains wet for a long time, put in wet friction (friction in particularly wet) and sweat and rain: and other apparel to decontamination if so please with your mind. Also, please wash the infection when washing you may share and other things.
▼ may shrink slightly by washing or cleaning on the characteristics of the material in the oblique line (State looks twisted the entire product).
• There may be characteristics on the products, take position of the fabric creates a pattern and nuance slight individual difference, different images and facial expressions.
▼ Please check also comes with tag described before handling.