Even with the Cape coat work check shirt
Long topped with big big dot pattern print check pattern shirt. Big breast V in open-collar design's one-button front. Born Xue and gather and put through the fabric Ribbon tied to the West, and refine your silhouette. Faintly seen raising sense of the sheer cotton material, so wear as one piece is also, of course, in the sense of sheer coat used as a casual Jacket recommended! Large side pocket is.
---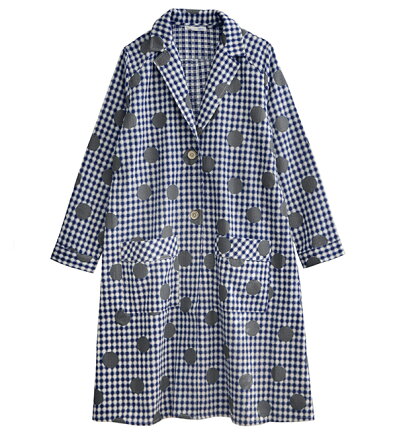 Actual size
Cm, length 100 cm (measured from shoulder) chest 118 cm, shoulder width 58 cm
Sleeve length 21-33 cm sleeve length approx. 50-62 cm armholes 36 cm
Cuff 25 cm waist: about 106 cm (strap the adjustable)
Hem around 118 cm 15 cm low-cut neckline depth 23 cm
When you roll up * cm, sleeve length and sleeve length-is the size of the extended time.
* Above sizes are our flat place exact size it is. Is different from the notation size value nude ( JIS standard size ) merchandise tags, etc. Click here for details.
Material
100% Cotton
Washing instructions
Production country
Made in China
Lining
Without
Stretch fabric
Do not stretch
Sheer fabric
透けません
Color
Green ( dark green x Navy x off white × orange brown )
Blue ( blue x black x off white x red tea )
Red ( red x green / Navy / off-white )
* ( ) check scheme is in
* Common, black is a color dot
Related products
Also using the same checked fabric- sequins.
A large dot printボールドット series
Points to note
▼ remains wet for a long time, put in wet friction (friction in particularly wet) and sweat and rain: and other apparel to decontamination if so please with your mind. Also, wash may dye when washing to separate other things.
▼ may shrink slightly by washing or cleaning on the characteristics of the material in the oblique line (State looks twisted the entire product).
• There may be characteristics on the products, take position of the fabric creates a pattern and nuance slight individual difference, different images and facial expressions. Also does not match the pattern in the seam to necessarily.
• Avoid ironing to the printed piece.
▼ Please check also comes with tag described before handling.