May differ from actual colors pictured above wearing a little. Please see the product pictures below color. Also, if you have any concern, please feel free to contact.
Height 153 cm ash purple use: check the code
Balloon hem dress freely converted silhouette
プルオーバーシャツワン piece can balloon type, narrow hem. Stand color kink of walnuts. Width and the sleeve has switched to the sewn material. Not pick up only in t-shirt material type body fit on your sleeve and feeling soft. Guests can dress sharp. I am happy also cm aperture subtraction of the hem can be adjusted freely.
Magician to wear and enjoy greatly expands A line.
---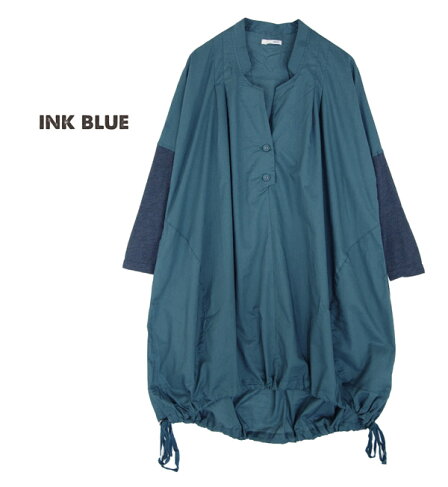 Actual size
Length approx. 85-95 cm (front - back) chest 130 cm
Sleeve length approx. 71 cm (, out of another cloth piece 30 cm )
Sleeve 18 cm waist: 144 cm
16.5 Cm low-cut neckline depth 19 cm
* Above sizes are our flat place exact size it is. Is different from the notation size value nude ( JIS standard size ) merchandise tags, etc. Click here for details.
Material
Body: 100% cotton
Separate fabric: polyester 65% rayon 35%

Washing instructions
Production country
Made in China
Lining
Without
Stretch fabric
Body: do not stretch
Separate fabric: stretches nicely

Sheer fabric
Body: slightly sheer may
Separate fabric: slightly sheer may
* Inner is required

Color
Ink blue
( faded blue x Dark Navy )
Charcoal
( close to grey charcoal x Dark Grey Heather )
Ash purple
( thin purple shade of gray x pale grey )
Beige
( off-white beige / yellow gray beige )
* ( ) in a body x is the color of the sleeve

Points to note
▼ Properties prone to pilling ( hairball ). Please wear where it is and when to remove with scissors.
• Hook, please note so easy catching nature and friction and rough surface, such as during insertion and removal, the accessories, belt and surrounding wall and caught.
▼ remains wet for a long time, put in wet friction (friction in particularly wet) and sweat and rain: and other apparel to decontamination if so please with your mind. Also, wash may dye when washing to separate other things.
▼ may shrink slightly by washing or cleaning on the characteristics of the material in the oblique line (State looks twisted the entire product) discoloration.
▼ Please check also comes with tag described before handling.