Switch with 3 kinds of fabric loose dress
Solid color shirt x print chiffon x switched in solid color fabrics (unique: weaving things) 3 kinds of fabric, comfortable one piece. It is spread and become a rectangle, without switching sleeve Dolman sleeve design. 着こなせます under the impression in the chest at the top-in gauze to use sew a soft fluffy things picked up shoulder line clean and uncluttered. I also enjoy a natural flare in sheer chiffon fabric is woven fabric is light so the concern around the waist and around the waist will cover firmly. Back around the shoulder yoke position, cut and sewn material gathered while being switched in solid color fabrics.
Simply more! and wear only in the presence of coordination is complete.
---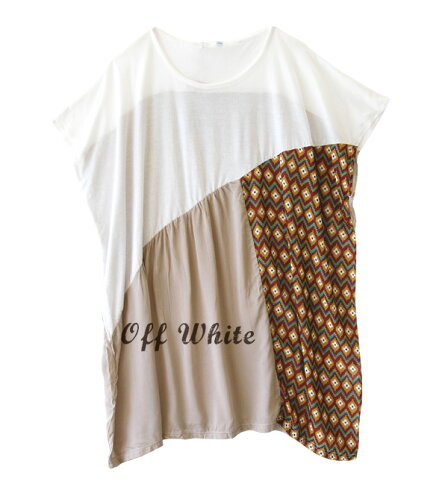 Actual size
Chest 130 cm cm, length 79 cm (measured from shoulder) sleeve length approx. 36 cm sleeve 42 cm
Waist: approx. 140 cm hem around 150 cm 21 cm low-cut-cut deep, 10 cm
* Above sizes are our flat place exact size it is. Is different from the notation size value nude ( JIS standard size ) merchandise tags, etc. Click here for details.
Material
Body: 100% cotton
Another fabric 1: 100% rayon
2 Different fabrics: polyester 100%
Washing instructions
Production country
Made in China
Lining
Without
Stretch fabric
Only at the top, as good as stretch
Do not stretch the others *
Sheer fabric
Somewhat sheer (inner is mandatory) must
Color
Off white
( off white x gray beige × ochre, dark red and emerald green )
Oatmeal
( Oatmeal beige old x black x blue-and orange-mustard )
Gray
( Dark because of gray × black × ochre, dark red and emerald green )
Charcoal
( charcoal gray * gray beige × blue-and orange-mustard )
* ( ) in top-x under solid partial x is a color pattern parts
Points to note
▼ Properties prone to pilling ( hairball ). Please wear where it is and when to remove with scissors.
• Hook, please note so easy catching nature and friction and rough surface, such as during insertion and removal, the accessories, belt and surrounding wall and caught.
▼ remains wet for a long time, put in wet friction (friction in particularly wet) and sweat and rain: and other apparel to decontamination if so please with your mind. Also, wash may dye when washing to separate other things.
▼ may shrink slightly by washing or cleaning on the characteristics of the material in the oblique line (State looks twisted the entire product).
▼ characteristics on the products, the dough taking positions just some individual differences, such as pattern and nuances, different images and facial expressions.
▼ Please check also comes with tag described before handling.