Big color ruffles adorn the front boldly
Color ruffled greatly and diagonally mounted up front. Sweet, rather than cool. Is a distinctive design piece. Studded Pocket hanging peeked in at a glance and even points! It is not switching shoulder Dolman and loose form width, chest pocket and Tron, Nuke sense of atmosphere. High point is sizing you can afford, but soft, thin cut and sewn fabric tactfully to the line of the body along a less thickly clad ◎. Slender Ms Petite's also cheating cum and enjoy a fancy dress.
---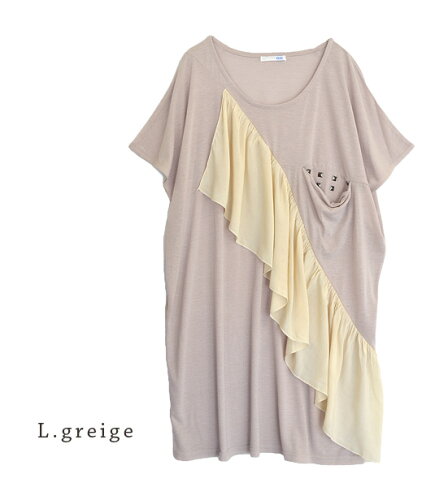 Actual size
Chest 126 cm cm, length 84 cm (measured from shoulder) sleeve length 40 cm sleeve 39 cm
Waist: 118 cm hem around 118 cm 25 cm low-cut neckline depth is approximately 13 cm
* This item is not represented is the size of the shoulders, sleeves, armholes tailoring on the switch of the shoulder is not design for the.
* Above sizes are our flat place exact size it is. Is different from the notation size value nude ( JIS standard size ) merchandise tags, etc. Click here for details.
Material
Body: polyester 65% rayon 35%
Separate fabric: 100% rayon
Washing instructions
Production country
Made in China
Lining
Without
Stretch fabric
The stretch a lot
Sheer fabric
Somewhat sheer (inner is mandatory) must
Color
ライトグレージュ ( thin gray beige / ivory tinged with yellowish )
モカグレー ( fading dark x thin gray )
Dark orange ( light orange-brown × fading )
Black ( Black standard x Navy )
* ( ) in a body x is a different fabric colors
* Common, is a metallic silver color studs
Related products
Also using the same ribbing shoulder レースチュニック
Points to note
▼ so time remains wet for a long time, put in wet friction (friction in particularly wet) and sweat and rain, other clothing to decontamination if you like! Also please alone wash during the wash.
▼ may shrink slightly by washing on the characteristics of the material in the oblique line (State looks twisted the entire product).
• Hook-so easy catching nature and during insertion and removal also friction and rough surface, such as accessories, belt, around the wall and caught on Please note.
• Permanent shiny studs in the No. Also, do not iron studs part.
▼ Please check also comes with tag described before handling.