Spring Flower × ライトデニム switch design
Floral fabric came from our original brand Zootie ( ズーティー ) × ライトデニム adult Kawai Ione piece. In the impression of that key points in fresh denim pattern somewhere clean and the 着こなせます. Without switching sleeve design, and to wear short sleeves are born demurely. With became accent on back pockets and cute from behind.
Full width is so relaxing and can wear it!
---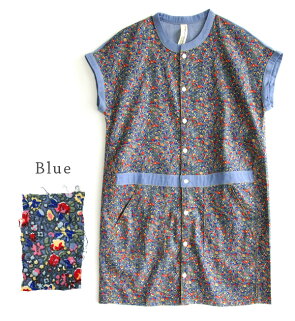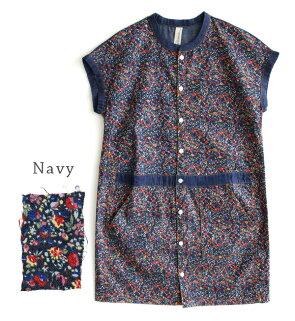 Actual size
Bust 100 cm cm, length 85 cm shoulder ( ) sleeve length approximately 32 cm from
Cuff 34 cm waist 103 cm hip 108 cm
14 Cm low-cut neckline depth approx. 9.5 cm
* For deformation design across the shoulders, sleeves, armholes, etc. is not provided. Rough you think the stated size.
* Above sizes are our flat place exact size it is. Is different from the notation size value nude ( JIS standard size ) merchandise tags, etc. Click here for details.
Material
Body: polyester cotton 63% 2% 35% polyurethane
Separate fabric: 80% cotton 20% polyester
Washing instructions
Production country
Made in China
Lining
Without
Stretch fabric
Does not stretch vertically next to the somewhat, but the
Sheer fabric
About 透けません
Color
Blue ( Saxe blue x Saxe blue )
Navy ( close to the black indigo / indigo )
* ( ) in a color in the body of x is a different fabric pieces of your color
* Common in the floral parts are red, pink, Navy Blue, light Khaki, etc.

Related products
The same floral fabric on a dot print
サルエルテーパード pants & shorts also available
Points to note
▼ seperately so you lose the color, other, wash with washing machine.
▼ remains wet for a long time, put in wet friction (friction in particularly wet) and sweat and rain: and other apparel to decontamination if so please take care.
▼ may shrink slightly by washing on the characteristics of the material in the oblique line (State looks twisted the entire product).
• Easier to fall out and print is not permanent, or more, to be rubbed, also repeat the washing and cleaning by slightly thinner. Also please avoid ironing to the printed piece.
• Subject characteristics on the products, take position of print and fabric creates a pattern and nuance slight individual difference, different images and facial expressions. Also, does not match the pattern in the seam to necessarily.
▼ Please check also comes with tag described before handling.