Discreet color schemes, adult トレンドロングワンピ
An elegant glossy shine is merely rayon material. Fabric in mind so much, a little stretch was like mesmerizing Maxi dress shirt dress. Stand collar neckline is somehow Orthodox girls give the impression. At regular intervals to the switching part of the chest under the TAC has received, draw a soft line to hem. By neckline, cuffs, yoke and slightly switched fabric ( unique ) students in understated color scheme, only a におわせ trend of color views. Even those who dislike the Royal ガーリーワンピ also not. It is somehow attracted a feminine design.
---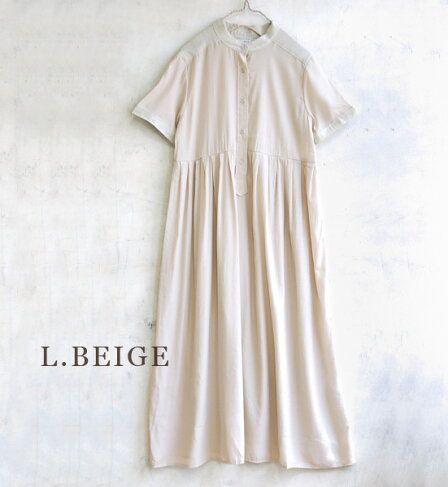 Actual size
Ringtones shoulder 39 cm bust 92 cm length 118 cm (out, skirt length 86 cm / shoulder measurement)
Cm, sleeve length 20 cm sleeve length approx. 39.5 cm armholes about 40 cm sleeve 32 cm
Waist: 94 cm (switching partial) hip 144 cm
Approximately 15 cm wide-cut neckline depth 5 cm
* The size is our open space is the exact size. May differ from the representation of the tags. For more information of the size Click here From.
Material
100% Rayon
Washing instructions
Production country
Made in Japan
Lining
Without
Stretch fabric
Do not stretch
Sheer fabric
May slightly sheer
( light: dark / inner is required: with inner the )
Color
Light beige ( Ivory old beige × Green's light gray )
Brick ( dull lacquer × somewhat see a yellow-red )
Gray ( faintly tinged with bluish light gray * gray )
Navy ( dark Dark Navy / Navy including the white little )
* ( ) in a body x is a different fabric colors
Related products
Using the same fabric
Flare sleeves blouse & ラウンドヘム blouse Also available
Points to note
• This product is used very delicate material. Join the vigorous and strong force and open seams, eyes slippage has to nature (weaving yarn open slip eye). Trap when wearing a belt, buckle and detachable watches, rings, etc. by the frictional strength of ground such as 10 minutes please be careful.
▼ may be discolored because of the other seperately, please wash.
▼ remains wet for a long time, put in wet friction (friction in particularly wet) and sweat and rain: and other apparel to decontamination if so please take care.
▼ may shrink slightly by washing or cleaning on the characteristics of the material in the oblique line (State looks twisted the entire product).
▼ Please check also comes with tag described before handling.