May differ from actual colors pictured above wearing a little. Please see the product pictures below color. Also, if you have any concern, please feel free to contact.
Height 161 cm Blue use: check the code
Attached to the asymmetric lace ドルマンワンピ
One piece of very wide silhouette, was put race on the neckline and shoulders like a remake. Scallop-shaped lace collar of the right shoulder only a tulle lace superimposed. Whas greatly improve some of this asymmetrical design. No reshuffling of the shoulders, like a big square Dolman sleeve anyway a wide item is sheer, soft fabric, merely blends tactfully to the line of the body. Slender Ms I'm relieved at a petite!
---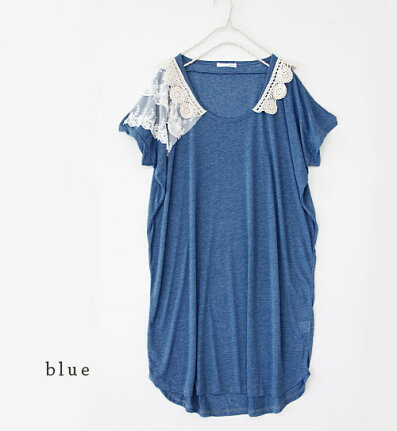 Actual size
Chest girth approx. 140 cm ( measure cuffs under position )
Length approx. 82-92 cm ) ( side - front and shoulders from
Sleeve length approx. 37 cm sleeve 30 cm waist: approx. 132 cm
22 Cm low-cut neckline depth 16 cm
* This item is not represented is the size of the shoulders, sleeves, armholes tailoring on the switch of the shoulder is not designed for.
* Above sizes are our flat place exact size it is. Is different from the notation size value nude ( JIS standard size ) merchandise tags, etc. Click here for details.
Material
Body: polyester 65% rayon 35%
Lace: 100% cotton
Lace: 100% polyester
Washing instructions
Production country
Made in China
Lining
Without
Stretch fabric
The stretch a lot
Sheer fabric
May slightly sheer
( * light is particularly recommended with inner the )
Color
Blue (Blue with white)
Charcoal (Dark charcoal)
Grey beige ( Greige slightly with khaki )
* Shoulder lace tulle off-white cotton lace, white is
Related products
Using the same fabric body
There is a shoulder レースチュニック T shirt
Points to note
▼ Click on may be discolored when washing, because alone we would like avoid washing, please wash. 100% Cotton products will shrink during washing.
▼ so time remains wet for a long time, put in wet friction (friction in particularly wet) and sweat and rain, other clothing to decontamination if you like!
▼ looks like pilling ( hairball ), prone to pilling ( hairball ) characteristics. Please wear where it is and when to remove with scissors.
• This product is on the design, tulle lace is bleed specifications. Repeated washing and wear increases cutting surface, the fray. Please wear the points come to mind if you like fraying where it is removed with scissors.
▼ uses delicate fabrics, hook, please note so easy catching nature and friction and rough surface, such as during insertion and removal, the accessories, belt and surrounding wall and caught.
▼ may shrink slightly by washing or cleaning on the characteristics of the material in the oblique line (State looks twisted the entire product).
▼ Please check also comes with tag described before handling.