May differ from actual colors pictured above wearing a little. Please see the product pictures below color. Also, if you have any concern, please feel free to contact.
Height 161 cm Blue-Green using: Check the code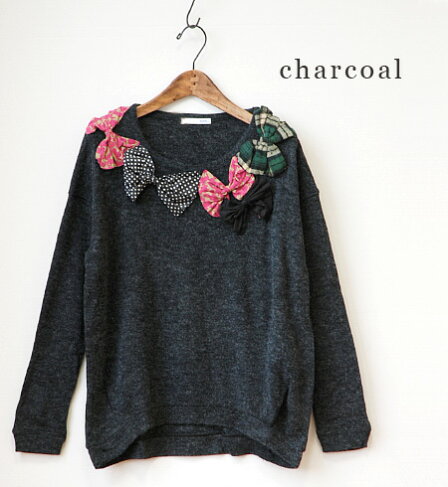 Notation size
"One size fits all."

Actual size
Ringtones shoulder width 52 cm bust 100 cm length 57-63 cm ( shoulder measurement and before-after )
Armhole 36 cm sleeve length approx. 73 cm sleeve 16 cm sleeve length 47 cm
Waist: about 100 cm 19 cm low-cut neckline depth 10 cm
* Deformation design switching shoulders with pretty outside, so the shoulders, sleeves and armholes as referring to please. Also because the armholes are measure switching part is the arm size.
* Knit to size slight individual difference arises. Notation size should be considered approximate.
* The size is our open space is the exact size. May differ from the representation of the tags. For more information of the size Click here From.
Material
Body: acrylic 80% nylon 20%
Ribbon: rayon cotton
Washing instructions
Production country
Made in China
Lining
Without
Stretch fabric
Well stretch the ( does not stretch the Ribbon part )
Sheer fabric
May slightly sheer

Color
Charcoal (Charcoal contains white fibres)
( fading x pink and green x ivory, etc. )
Gray (The thin gray marbled feeling)
( Purple x gray-green × ivory etc )
Beige (A slightly marbled light Beige)
( grey x green and red x ivory, etc. )
Blue-Green ( slightly sloshed bluish dark order of green )
( fading × charcoal / light gray *, ivory etc )
* ( ) in upper body color, lower the cat pattern Ribbon-check pattern Ribbon color is
* Black and polka dot ( black × off-white ) of all colors of Ribbon 2 types are common

Related products
The same dough
Nosleeve one piece & ドルマンワン piece Also available
* Different from the color palette
Points to note
• Product characteristics on the Ribbon pieces the dough taking positions just pattern, nuances, and size, some individual differences, different images and facial expressions. Also does not match the pattern in the seam to necessarily.
▼ remains wet for a long time, put in wet friction (friction in particularly wet) and sweat and rain: and other apparel to decontamination if so please with your mind. Also, please wash and other things.
▼ Please do don't fall decorations are especially prone trap, so wear and removal when the projection clock, accessories belts, etc..
• This product, on the characteristics of the material by washing and cleaning slightly shrinks the resulting diagonal line (State looks twisted the entire product).
▼ looks like pilling ( hairball ), prone to pilling ( hairball ) characteristics. Please wear where it is and when to remove with scissors.
▼ Please check also comes with tag described before handling.