Ortega pattern best spring in the summer re-appearance!
Later re-appeared Ortega pattern embroidered vests 2013 SS ♪ cotton linen material a slab of dough this time, Ortega's pattern is designed in cross stitch.
Best is to up the fashion sense of elegance, plus the usual clothing items. That bright colours only ethnic atmosphere become code accents and large Concho buttons?! T shirts, one-piece, more cum and sounds plus a.
---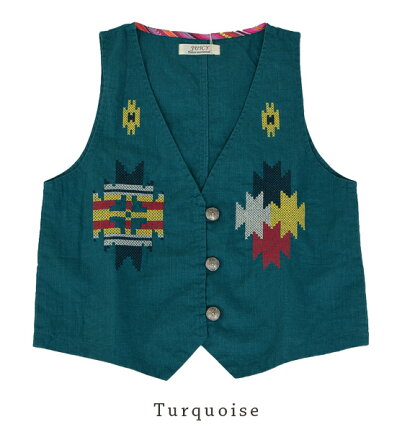 Notation size
"M-size" (one size)
79 – 87 Cm bust 154-162 cm tall
Actual size
Bust 87 cm shoulder 28 cm overall length approx. 51-46 cm ( before-measure from the back and shoulders ) armholes about 46 cm
West (around the hem) 94 cm 18 cm low-cut neckline depth 26 cm
* The size is our open space is the exact size. May differ from the representation of the tags. Click here for details.
Material
Body: 55% hemp 45% cotton
Thread: 100% polyester
Washing instructions
Production country
Made in China
Lining
Cotton 100% (do not stretch materials, non-glossy plain body with similar colors)
* The lining is only the front
Stretch fabric
Do not stretch
Sheer fabric
About 透けません
Color
Turquoise ( with a bluish tint dark because of the Green x yellow, dark blue, off white and vermilion red, )
Beige ( Dark beige x Navy Blue, dark green, yellow and Vermillion red, etc. )
エクリュー ( Ivory old thin beige x Navy Blue, dark green, yellow and vermilion red, )
* ( ) in a body x is the color of embroidery
Points to note
▼ Please do embroidery pieces are prone to fraying due to friction and the trap, so wear and removal when the fold on watches & accessories-belts, etc..
▼ remains wet for a long time, put in wet friction (friction in particularly wet) and sweat and rain: and other apparel to decontamination if so please with your mind. Also, please wash and other things.
• This product, on the characteristics of the material by washing and cleaning slightly shrinks the resulting diagonal line (State looks twisted the entire product).
▼ Please check also comes with tag described before handling.