Fluffy boobs and soft color ニットソー one-piece
ニットソーチュニック became a triple color the whole front becomes the color by color, back side. Is the tack like a twist-front hem and put an animated design. Pancake knit of soft fluffy nicely springy feel used, and most I also wear a warm lump ◎. The roll-cuffs, is fixed. Design was switched without switching sleeve short sleeve Dolman sleeve & hem, so will not too spread the silhouette cover the body.
---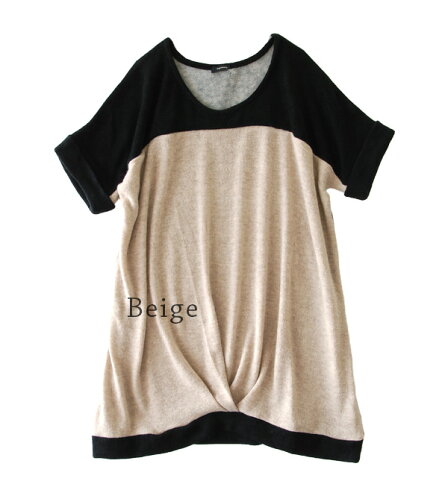 Notation size
"M-size" (one size)
79 – 87 Cm bust 154-162 cm tall
Actual size
Total height cm 71-76 ( Center front-after ) chest 120 cm (chest girth equivalent position)
Sleeve length approx. 39 cm 30 cm cuff hem around 118 cm
Approx. 21 cm wide-cut neckline depth 13 cm
* Above sizes are our flat place exact size it is. Is different from the notation size value nude ( JIS standard size ) merchandise tags, etc. Click here for details.
Material
Acrylic 80% nylon 20%
Washing instructions
Production country
Made in China
Lining
Without
Stretch fabric
The stretch a lot
Sheer fabric
Inner is required because the see-through from the stitch
Color
Beige (A dull black / beige / gray of gray)
Red Dark brown / red calm / dingy Mocha Brown
Royal Blue (Black and slightly less vibrant blue / charcoal gray)
Black (Slightly green-dark grey / white shag Navy/Black)
* ( ) in color on the front under the front or back is
Points to note
• Knit nature, just "thread seams" and somewhat "fray", also in shapes and sizes prone individual product is. As you can understand thank you.
• Hook, please note so easy catching nature and friction and rough surface, such as during insertion and removal, the accessories, belt and surrounding wall and caught.
▼ Properties prone to pilling ( hairball ). Please wear where it is and when to remove with scissors.
▼ remains wet for a long time, put in wet friction (friction in particularly wet) and sweat and rain: and other apparel to decontamination if so please with your mind. Also, please wash the infection when washing you may share and other things.
▼ may shrink slightly by washing or cleaning on the characteristics of the material in the oblique line (State looks twisted the entire product).
▼ Please check also comes with tag described before handling.