May differ from actual colors pictured above wearing a little. Please see the product pictures below color. Also, if you have any concern, please feel free to contact.
Height 153 cm ink blue use: check the code
Adult chest Ribbon behind the beautiful drape dress
Deane material feel classy luster that's adult Kawai Ione piece Ribbon on the chest. Is a tie neckline was a tie Ribbon cut and design. Without switching sleeve short sleeve Dolman sleeve, so your sleeves and wear tactfully along the lines of the body is born. Rubber has been put to the central line of the body, creates a natural gathering and draping. It is simple made without lining than it looks much more feel free to wear without hesitation.
---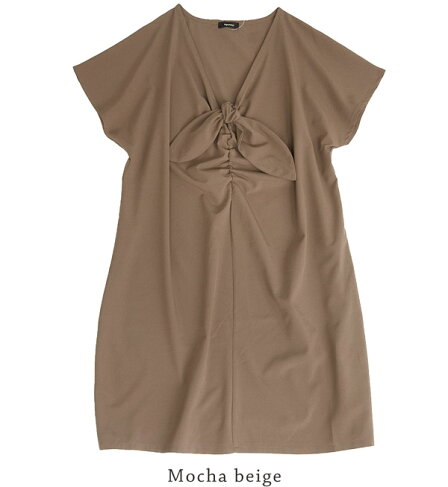 Notation size
"M-size" (one size)
79 – 87 Cm bust 154-162 cm tall
Actual size
Chest 110 cm (measured in the chest girth equivalent position)
Length approx. 85 cm (measured from shoulder) sleeve length 35 cm 40 cm cuff
Approx. 112 cm waist hem around 120 cm
19 Cm low-cut neckline depth 17 cm
* This item is not represented is the size of the shoulders, sleeves, armholes tailoring on the switch of the shoulder is not design for the.
* Above sizes are our flat place exact size it is. Is different from the notation size value nude ( JIS standard size ) merchandise tags, etc. Click here for details.
Material
Polyester 95% polyurethane 5%
Washing instructions
Production country
Made in China
Lining
Without
Stretch fabric
A little stretch
Sheer fabric
May seem almost 透けません to show through in the light
Color
Fading (Your colors such as sand Beige)
Red (Such as dark red dark red)
Ink blue (Green-Navy Blue)
Black (Standard black)

Related products
ウエストギャザーワン piece of the same fabric.
Points to note
• This product is used very delicate material. Join the vigorous and strong force and open seams, eyes slippage has to nature (weaving yarn open slip eye). Trap when wearing a belt, buckle and detachable watches, rings, etc. by the frictional strength of ground such as 10 minutes please be careful.
▼ remains wet for a long time, put in wet friction (friction in particularly wet) and sweat and rain: and other apparel to decontamination if so please with your mind. Also, wash may dye when washing to separate other things.
▼ may shrink slightly by washing or cleaning on the characteristics of the material in the oblique line (State looks twisted the entire product).
▼ Please check also comes with tag described before handling.