May differ from actual colors pictured above wearing a little. Please see the product pictures below color. Also, if you have any concern, please feel free to contact.
Height 163 cm Navy use: check the code
Mature code, easy to use different material substitution pullover
Pullover with a fashionable fabric switching design. The first stage and back the sleeve slightly brushed soft sewn material. Vine is the second cum and textured Leopard dot pattern materials. A little three-eyes Shak. and has used the texture of solid material. And wear the sleeves are attached to a wide width and Yul was and has become a pretty v problem. Somewhere in calm tones has a finish so mature, 'cool' and ' beautiful order ", is also perfect for dressing.
---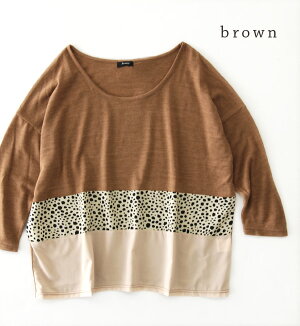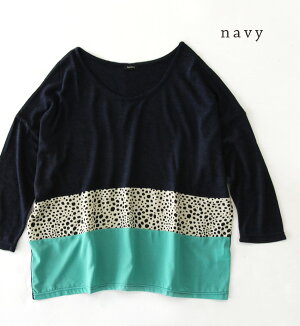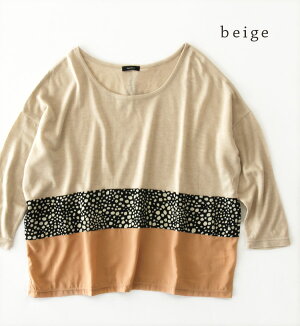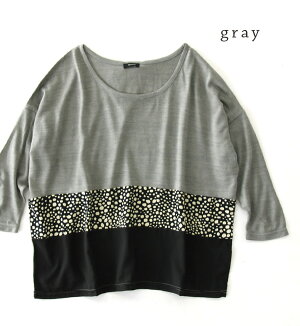 Notation size
"M-size" (one size)
79 – 87 Cm bust 154-162 cm tall
Actual size
Ringtones shoulder width 63 cm chest 120 cm length approx. 61 cm sleeve length 33 cm
Sleeve length 65 cm armholes about 34 cm cuff 22 cm
Waist: 118 cm width 23 cm low-cut neckline depth 15 cm
* Deformation design switching shoulders with pretty outside, so the shoulders, sleeves and armholes as referring to please. Also because the armholes are measure switching part is the arm size.
* Above sizes are our flat place exact size it is. Is different from the notation size value nude ( JIS standard size ) merchandise tags, etc. Click here for details.
Material
Table 1 fabric: acrylic 75% nylon 25%
Table 2 fabric: 100% polyester
Table 3 fabric: 100% polyester
* Front fabric is provided from the top

Washing instructions
Production country
Made in China
Lining
Without
Stretch fabric
Fabric table 1: nice stretch
Dough table 2: do not stretch
Dough table 3: do not stretch

Sheer fabric
Table fabric 1: about 透けません
Table fabric 2: may sense of sheer
Table cloth 3: have transparent
* Inner is required

Color
Brown Almost light brown to orange-brown
"Ivory / black / light beige.
Navy (Dark blue)
"Light gray × black/light blue.
Beige Dark and light beige
"Black x near ivory / beige and dark beige.
Gray (Dim gray)
S black / ivory/black.
* ( ) in sewn material and color,? s? t in the cloth material (top and bottom) of contains, colour

Points to note
▼ Properties prone to pilling ( hairball ). Please wear where it is and when to remove with scissors.
▼ characteristics on the products, the dough taking positions just some individual differences, such as pattern and nuances, different images and facial expressions. Also does not match the pattern in the seam to necessarily.
• This product is used very delicate material. Join the vigorous and strong force and open seams, eyes slippage has to nature (weaving yarn open slip eye). Also worn and removed when not hooked protrusions such as watches, belts and accessories so please be careful.
▼ remains wet for a long time, put in wet friction (friction in particularly wet) and sweat and rain: and other apparel to decontamination if so please with your mind. Also, please wash the infection when washing you may share and other things.
▼ may shrink slightly by washing or cleaning on the characteristics of the material in the oblique line (State looks twisted the entire product) discoloration.
▼ Please check also comes with tag described before handling.