May differ from actual colors pictured above wearing a little. Please see the product pictures below color. Also, if you have any concern, please feel free to contact.
Height 168 cm beige use: check the code
Autumn & winter materials on plain x border switch one-piece
Solid fluffy ニットソー material with colorful, somewhere in the border pattern retro color your switched, our original brand Zootie ( ズーティー )ドルマンスリーブワン piece. Perfect for autumn and winter warm fabrics, color seen in is an item that is designed. Firmly along the shoulder line a soft, slender and Petite, it also is hard to 着膨れ points. Further, is the transition in the lowest position easy to dress. So cover your body and body covering force also Ali, and wear only in the code completion is one.
---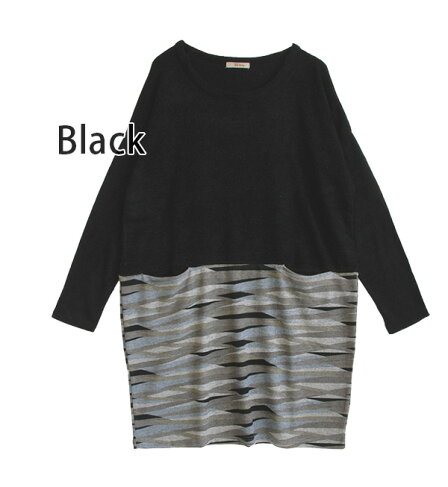 Notation size
"M-size" (one size)
79 – 87 Cm bust 154-162 cm tall
Actual size
Chest girth 146 cm length 86 cm (measured from shoulder) sleeve length approx. 52 cm cuff approximately 36 cm
Hem around the waist approximately 138 cm measure the switching of about 122 cm
24 Cm low-cut neckline depth 14 cm
* This item is not represented is the size of the shoulders, sleeves, armholes tailoring on the switch of the shoulder is not design for the.
* Knit to size slight individual difference arises. Notation size should be considered approximate.
* The size is our open space is the exact size. May differ from the representation of the tags. Click here for details.
Material
Body: acrylic 80% nylon 20%
Different fabrics: polyester 70% nylon 13% acrylic 12% polyurethane 5%
Washing instructions
Production country
Made in China
Lining
Without
Stretch fabric
The stretch a lot
Sheer fabric
Because be transparent from the stitch inner with a recommended the
Color
Charcoal [Standard charcoal grey of Heather]
( Dark because of the beige, beige, dull blue, Orange, black, purple )
Beige [Somewhat moderate thin beige]
( Dark because of the beige, beige, purple and orange, black and dull blue )
モカ [モカグレー]
Thin green calm, blue, black, red, bright yellow color
Black [Standard black]
Black, red and blue, bright yellow and gray, off-white
* Upper level [] color of the solid part, lower in ( ) border color is in the
Points to note
▼ uses delicate fabrics, hook, please note so easy catching nature and friction and rough surface, such as during insertion and removal, the accessories, belt and surrounding wall and caught.
▼ Properties prone to pilling ( hairball ). Please wear where it is and when to remove with scissors.
▼ remains wet for a long time, put in wet friction (friction in particularly wet) and sweat and rain: and other apparel to decontamination if so please take care.
▼ may shrink slightly by washing or cleaning on the characteristics of the material in the oblique line (State looks twisted the entire product).
• Subject characteristics on the products, the dough taking positions just some individual differences nuances and attitude of the size, design, different images and facial expressions.
▼ Please check also comes with tag described before handling.