I'm sure Favorites to become ♪ cheerfully gaudy pattern タンクワンピ
JOY RICH seems to be daring big floral print textiles 'Sunrise Blossom タンクトップワン piece appeared. To deepen the open neckline neat back as simple. Even better skin familiar moist sew, so 着こなせます in the mature and beautiful silhouette. Contrary to the pattern of outstanding individuality and impact very beautiful because that impression. JOY RICH is indeed!
---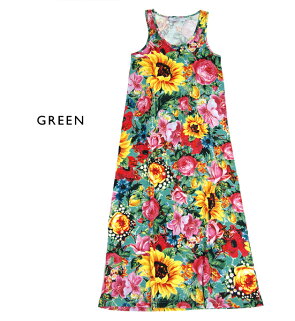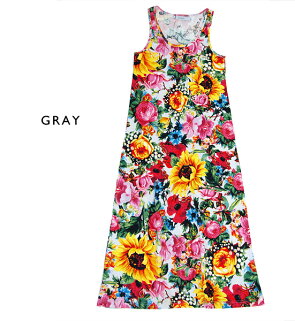 Chest girth
Shoulder width
Cm
Arm
Hall
West
Hem around
Neckline
Of width
Neckline
In depth
FEMME S
81
28
126
42
86
142
21
17
FEMME M
92
29
128
42
88
146
21
18
* Average value unit (cm) and measure samples of notation.
* Above sizes are our flat place exact size it is. Is different from the notation size value nude ( JIS standard size ) merchandise tags, etc. Click here for details.
* One point size nuances that vary. As a guide, please refer to display size.
Notation size
S FEMME S size."and"FEMME-M size.
Material
100% Cotton

Washing instructions
Production country
Made in China
Lining
Without
Stretch fabric
The stretch a lot
Sheer fabric
Little 透けません
Color
GREEN (Bright emerald green)
GRAY (Whitish strong light grey)
* In the pattern color is red, pink, yellow, Orange, etc.
Related products
The same floral fabric Sunrise Blossom series
The same silhouette Elegant Affair Tank Dress&Bone Garden Tank Maxi
Los Angeles shot brand JOY RICH ( Mickey Mouse No1 ) series
Points to note
• Our products are workmanship, 1 piece 1 piece size vary. Please reference as a standard display sizes. Also available is 100% cotton products will shrink slightly during washing.
▼ remains wet for a long time, put in wet friction (friction in particularly wet) and sweat and rain: and other apparel to decontamination if so please with your mind. Also, please wash and other things.
• Easier to fall out and print is not permanent, or more, to be rubbed, also repeat the washing and cleaning by slightly thinner. Also please avoid ironing to the printed piece.
• Subject characteristics on the products, take position of print and fabric creates a pattern and nuance slight individual difference, different images and facial expressions. Also, does not match the pattern in the seam to necessarily.
▼ Please check also comes with tag described before handling.