Davit MEURSAULT ( ダビットモルソー )
Theme's clothes are why nuclear in the inorganic. Imagine a fictional designer named Davit MEURSAULT, 'his clothes if you build these brands will be' a story along is expand item. Building detail current reversal of unprecedented techniques or combinations, special processing and special sewing all techniques utilizing simple, core instead of relying on stereotypes.
Short sleeve dress with presence of lament
One piece woven lame yarn knit sparkle. Is the presence and solid items. Silhouette is the a-line very simple. Mature, beautiful neckline has V-neckline looks. Taking advantage of sense of sheer from the stitches, Zebra in pieces As with layering can be enjoyed. Complete coordination without accessories or accessory just cool impression.
---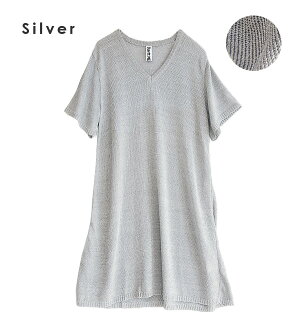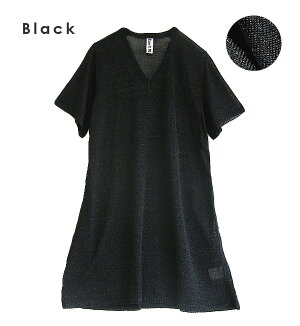 Notation size
"One size fits all."

Actual size
Bust 98 cm, shoulder width 34 cm cm, length 80 cm cm, sleeve length 22 cm sleeve length 39 cm's
Armhole 45 cm cuff approximately 40 cm waist 104 cm hip 118 cm
14 Cm low-cut neckline depth 14 cm
* Above sizes are our flat place exact size it is. Is different from the notation size value nude ( JIS standard size ) merchandise tags, etc. For more information of the size Click here From.
Material
Rayon 71% polyester, 29%
Washing instructions
Production country
Made in Japan
Lining
Without
Stretch fabric
The stretch a lot
Sheer fabric
See-through from the stitch
* Inner is required
Color
Silver ( somewhat strong whitish silver )
Black (black standard)
* Common, lame sheen is seen
Related products
Davit MEURSAULT ( ダビットモルソー ) product list
Points to note
▼ your laundry with dry cleaning please.
• Knit nature, just "thread seams" and somewhat "fray", also in shapes and sizes prone individual product is. As you can understand thank you.
▼ Properties prone to pilling ( hairball ). Please wear where it is and when to remove with scissors.
• Materials, please note that fiber on the trap-prone, so wear and removal when the fold on watches & accessories-belts, etc..
▼ remains wet for a long time, put in wet friction (friction in particularly wet) and sweat and rain: and other apparel to decontamination if so please with your mind. Also, please wash the infection when washing you may share and other things.
▼ may shrink slightly by washing or cleaning on the characteristics of the material in the oblique line (State looks twisted the entire product).
▼ may grow hanging on hangers for a long time and is kept in a flat State please.
▼ Please check also comes with tag described before handling.