Shall I and also enjoy the softness in the belt, breaking OK
Using expressive ribbing crochet knit pullover. Brushed feeling floaty boobs and smooth day! is a gentle tension to wear. Wide width v problem, which caused boobs and a loose atmosphere. Petite and delicate, feeling the ringtone comes to mind I,. 着こなせます balance in silhouette with a sharp angle cut and waist with attached belt.
Cuffs are feeling somewhat idiomatic, fixed and roll up.
---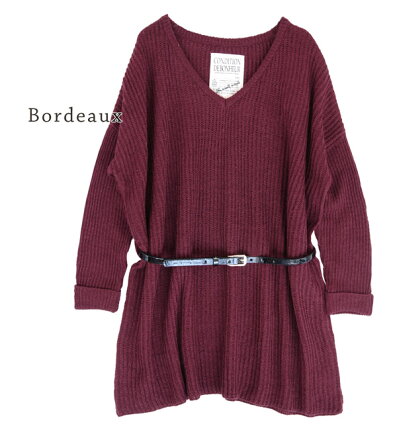 Notation size
"M-size" (one size)
Actual size
Total length approx. 74 cm girth about 134 cm 68 cm, shoulder width 36 cm sleeve length
Armhole approximately 29 cm 20 cm cuff hem around 144 cm
20 Cm low-cut neckline depth 17 cm
Comes with belt: length approx. 97 cm approximately 1.5 cm in width size 72-87 cm ( minimum-maximum )
* Knit to size slight individual difference arises. Notation size should be considered approximate.
* Above sizes are our flat place exact size it is. Is different from the notation size value nude ( JIS standard size ) merchandise tags, etc. For more information of the size Click here I don't like
Material
100% Acrylic
Washing instructions
Production country
Made in China
Lining
Without
Stretch fabric
The stretch a lot
Sheer fabric
See-through from the stitch
Color
Bordeaux ( soothing wine red )
Beige (Milk tea Beige)
Ivory ( Dark because of ivory )
* Color of the belt is common and black
Points to note
▼ your laundry with dry cleaning please.
• Knit nature, just "thread seams" and somewhat "fray", also in shapes and sizes prone individual product is. As you can understand thank you.
• Hook, please note so easy catching nature and friction and rough surface, such as during insertion and removal, the accessories, belt and surrounding wall and caught.
▼ Properties prone to pilling ( hairball ). Please wear where it is and when to remove with scissors.
▼ remains wet for a long time, put in wet friction (friction in particularly wet) and sweat and rain: and other apparel to decontamination if so please with your mind.
▼ may shrink slightly by cleaning on the characteristics of the material in the oblique line (State looks twisted the entire product).
▼ Please check also comes with tag described before handling.