May differ from actual colors pictured above wearing a little. Please see the product pictures below color. Also, if you have any concern, please feel free to contact.
Height 163 cm yellow x light grey use: Check the code
Become a new series of Saintete ( サンテテ ) ' 無斜 line Indian border "
The cotton yarn-dyed crochet, crochet thread fine thread fine two dressed in the finest Supima cotton around in the Central "Saintete" ( サンテテ ) The new series. Supima cotton is highly hygroscopic, soft and supple. And is characterized by beautiful luster of silk. Look Finish to the soft texture of intact and almost distortion-free fabric.
HDLC can afford plenty of sleeves and length with sewn-on Tee
クルーネックカットソー Inn-out easy to use and no extra sluggish sizing and basic silhouette. Color piping the neckline is accented. Is a longer length and sleeve length of bent shugo! and enjoy the informal atmosphere.
---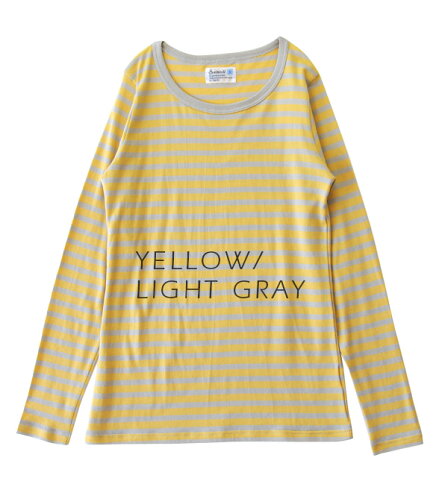 Notation size
"One size fits all."
Actual size
Total length 69 cm bust 84 cm, shoulder width 34 cm sleeve length 65 cm
Armhole 41 cm 19 cm cuff around the hem 89 cm
18 Cm low-cut neckline depth 11 cm
* Above sizes are our flat place exact size it is. Is different from the notation size value nude ( JIS standard size ) merchandise tags, etc. For more information of the size Click here From.
Material
100% Cotton
Washing instructions
Production country
Made in Japan
Lining
Without
Stretch fabric
The stretch a lot
Sheer fabric
Little 透けません
Color
Yellow/light grey ( yellow with white / light grey )
Blue/light grey ( Blue bright clean x light grey )
Ivy green/charcoal ( dull olive green x charcoal )
Navy/charcoal ( Dark order of the Navy × charcoal )
* ( ) in is the color of the border
Related products
Using the same fabric Tank top Also available
Saintete ( サンテテ ) product list
Points to note
▼ remains wet for a long time, put in wet friction (friction in particularly wet) and sweat and rain: and other apparel to decontamination if so please with your mind. Also, wash may dye when washing to separate other things.
▼ may shrink slightly by washing or cleaning on the characteristics of the material in the oblique line (State looks twisted the entire product) discoloration.
• There may be characteristics on the products, take position of the fabric creates a pattern and nuance slight individual difference, different images and facial expressions. Also does not match the pattern in the seam to necessarily.
▼ Please check also comes with tag described before handling.