May differ from actual colors pictured above wearing a little. Please see the product pictures below color. Also, if you have any concern, please feel free to contact.
Height approx. 160 cm charcoal use: check the code
The warmth and simplicity of the hemp and wool MIX 'linen'
Back hair material and soft knitted linen utilizing natural color, texture of the wool mix. Surface is touch unique fabrics with natural material hardness is touching the skin on the back is without hesitation and soothing skin per.
ナチュラルワンピ Ribbon through neckline
A simple one piece back Ribbon was accented. The Ribbon is also tightly squeeze the neckline really possible.
Clearly directing the whiff of adult crew neck and sleeves already wear the neckline is tailored in A body not dew crocodile line sleeves, width is 5 minutes. Not too compact, just relaxing. Adult women want is this sizing. Wear one and is, of course, in the cut and sewn in the files, from easy-to-coat outerwear silhouette, so that one can use various coordination.
---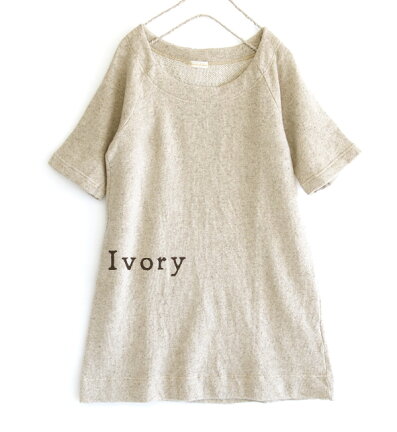 Notation size
"One size fits all."
Actual size
Chest 96 cm cm (measured from shoulder) approximately 80 cm sleeve length 46 cm.
Sleeve 30 cm waist: approximately 100 cm hem around approx. 116 cm
24 Cm low-cut neckline depth 11 cm
* Switching shoulders not raglan sleeves design for shoulders, sleeves, armholes the size not indicated.
* The size is our open space is the exact size. May differ from the representation of the tags. Click here for details.
Material
Wool linen 51% 22% cotton 21% nylon 6%
Washing instructions
Production country
Made in Japan
Lining
Without
Stretch fabric
The stretch a lot
Sheer fabric
About 透けません
Color
Ivory ( a moderate dark because of ivory )
Brown (A moderate somewhat brownish charcoal gray)
Charcoal (A moderate charcoal gray)

Related products
There is the same ウールリネン material bronze foil print trainer
Points to note
▼ uses delicate fabrics, hook, please note so easy catching nature and friction and rough surface, such as during insertion and removal, the accessories, belt and surrounding wall and caught.
▼ Properties prone to pilling ( hairball ). Please wear where it is and when to remove with scissors.
▼ remains wet for a long time, put in wet friction (friction in particularly wet) and sweat and rain: and other apparel to decontamination if so please take care.
▼ may shrink slightly by washing or cleaning on the characteristics of the material in the oblique line (State looks twisted the entire product).
▼ Please check also comes with tag described before handling.