Loosely woven various knitted pullover
Knit ribbing for watermark knitting, cable knitting. Pullover designed in many knitting patterns. ケミカルブリーチ processing, the distinctive irregularity and color were fashionable ♪ impression somewhere too bright color settled down, easily incorporated into coordination. A moderate width, length is shorter. It is 着こなせ balanced and easy to use with any bottoms sizing & silhouette.
---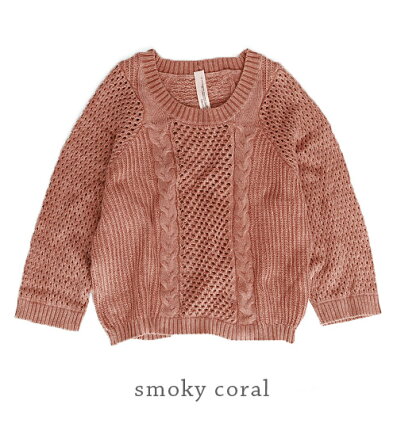 Notation size
"M-size" (one size)
Actual size
Bust 100 cm length 49 cm (measured from shoulder) sleeve length 62 cm sleeve 26 cm
Waist: 96 cm hem around 90 cm 16 cm low-cut-cut deep, 10 cm
* Switching shoulders not raglan sleeves design for shoulders, sleeves, armholes the size not indicated.
* Knit to size slight individual difference arises. Notation size should be considered approximate.
* Above sizes are our flat place exact size it is. Is different from the notation size value nude ( JIS standard size ) merchandise tags, etc. Click here for details.
Material
100% Cotton
Washing instructions
Production country
Made in China
Lining
Without
Stretch fabric
The stretch a lot
Sheer fabric
Inner is required because the see-through from the stitch
Color
スモーキーコーラル (Thin coral Orange matte)
Yellow (Dilute yellow matte)
Navy (That part was fading into beige faded Navy)
* We have become a common, like faded finish
Related products
There is the same material V Neck Cardigan

Points to note
▼ your laundry with dry cleaning please.
• Special processing to unique texture for this commodity is on. Enjoy as the characteristics of the product are each slightly different texture, color, size, etc.. Also, fading as more number of washing the.
• Knit nature, just "thread seams" and somewhat "fray", also in shapes and sizes prone individual product is. As you can understand thank you.
• Hook, please note so easy catching nature and friction and rough surface, such as during insertion and removal, the accessories, belt and surrounding wall and caught.
▼ Properties prone to pilling ( hairball ). Please wear where it is and when to remove with scissors.
▼ remains wet for a long time, put in wet friction (friction in particularly wet) and sweat and rain: and other apparel to decontamination if so please with your mind.
▼ may shrink slightly by cleaning on the characteristics of the material in the oblique line (State looks twisted the entire product).
▼ Please check also comes with tag described before handling.