104,949
Photos
* 13.10.15 Grand total point series
May differ from actual colors pictured above wearing a little. Please see the product pictures below color. Also, if you have any concern, please feel free to contact.
Height 163 cm 09. Brown use: check the code
Height 167 cm 02. ハニーキャメル use: check the code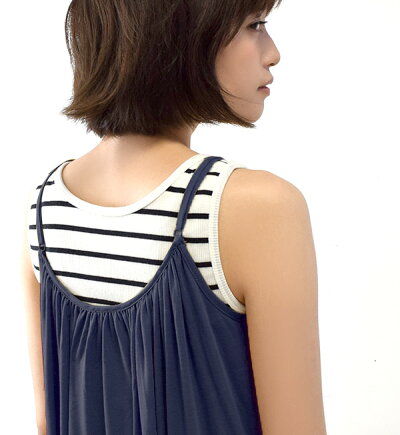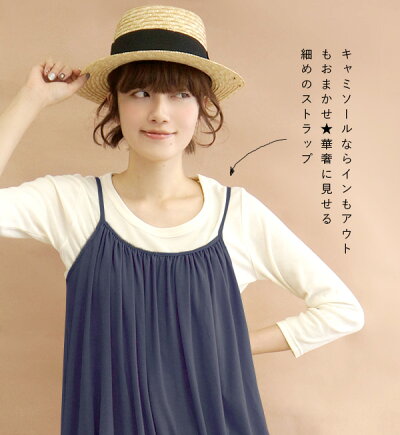 Simple design for an extra decorative tank piece. Boasts a luxurious drape's edgy stretch of a thick dough. Soft a-line fine gather the neckline the body cover partly ◎.
Strap in the shirt a little beautiful because that impression. With the adjuster, so dress to fit control possible. Bind in front or behind the laces are on the West, so the accent!
Notation size
"One size fits all."
Actual size
82-100 Cm girth ( position sizing-when expanding ) hem around 166 cm
Shoulder strap 8-15 cm ( adjuster adjustment possible, remove non-) approximately 1 cm in width
Length approx. 116-123 cm ( from chest girth 108 cm )
Waist cord length approx. 60 cm width 1 cm
* The size is our open space is the exact size. May differ from the representation of the tags. Click here for details.
Material
Body: polyester 62% rayon 33% polyurethane 5%
Another fabric: 100% cotton.
Washing instructions
Production country
Made in China
Lining
Without
Stretch fabric
The stretch a lot
Sheer fabric
May somewhat transparent ( * dimmed the inner is required especially because )
Color
01. Red ( bloodred old thick, dark red )
02. ハニーキャメル (Like strong Ochre yellow, color)
03. Pink beige (Hot pink reddish-coral strong)
04. Gretty (Your colors such as dark and bright green drab)
05. Dark green (Dark, dark khaki green)
06. Sax (Contains many white light faded a little blue)
07. Antique blue (Darker blue somewhat dingy)
08. Navy (Dark-blue calm)
09. Brown (Including Mocha milk tea Brown)
10 Scarlett (Contains the deep salmon pink soft thin red)
11 モクチョコ ( Red marbled sense of strong Mocha Brown )
13 Vanilla (Such as containing slightly yellowish off-white, color)
14 Black (Standard black)
15. The border ( Black standard x border pattern of slightly yellowish off-white )
* What color is color of the body and fabric pieces, by color somewhat color difference is also
Related products
In the matching tunic-length ver. & Knee-length dress ver. Also available
Points to note
• If this product characteristics on the dough, during washing slightly shrinks.
• Sharing and other things because there is fear of discoloration, wash with washing machine. We recommend your worn once wash received from.
• There may be border pattern is taking position of product characteristics on the fabric creates just some individual differences, such as pattern and nuances, different images and facial expressions. Also does not match the pattern in the seam to necessarily.
• Please note when you wear underwear and other clothing dye when wet in rain or sweat and friction to, since.
▼ Please check product tags-quality display before the washing and ironing.
• Precautions in handling please refer to the product tag attached to products.