May differ from actual colors pictured above wearing a little. Please see the product pictures below color. Also, if you have any concern, please feel free to contact.
161 Cm tall tricolour 09.: check the code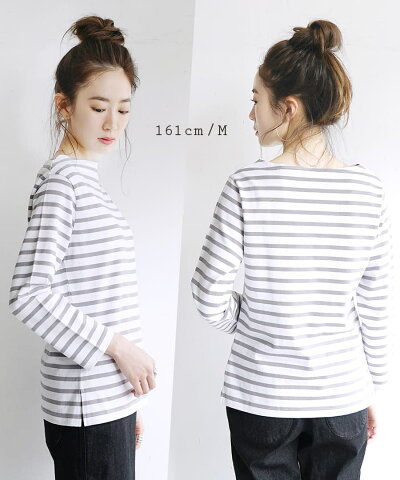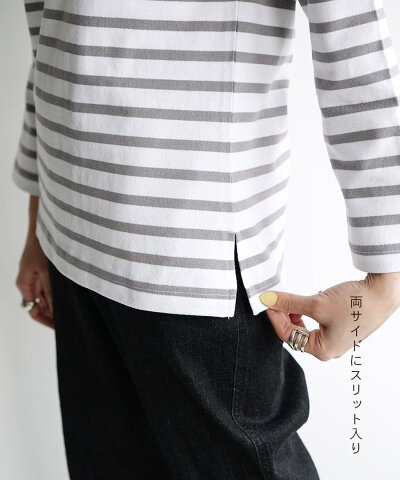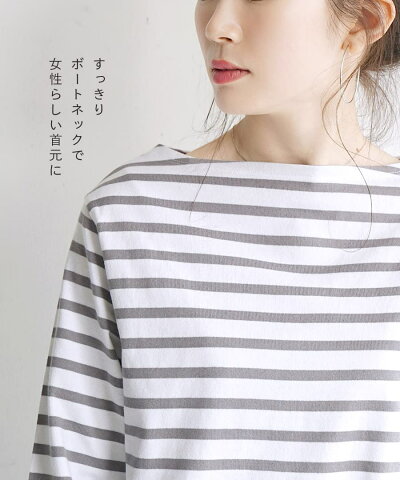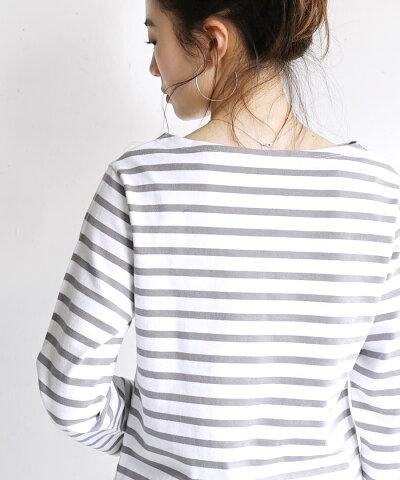 One piece's staple staple in to hold the long-sleeved バスクシャツ.

Slightly shorter sleeves just sweltering on a good length too ユル like a bodice, and the wrist. It is exquisite silhouette wears easily, in one piece, easy to take balance. Refreshing effect around the face is in the neck too!
2012 ver... is the new neckline design. Over the shoulder in the solid color fabric decorated with piping, has become accentuated.
Notation size
"One size fits all."
Actual size
Ringtones shoulder 38 cm bust 86 cm length 58 cm (measured from shoulder) sleeve length 51 cm
Sleeve length 70 cm arm holes about 38 cm sleeve 23 cm
Waist: 84 cm width 23 cm low-cut neckline depth 8 cm
* The size is our open space is the exact size. May differ from the representation of the tags. Click here for details.
Material
100% Cotton
Washing instructions
Production country
Made in China
Lining
Without
Stretch fabric
Slightly stretch the
Sheer fabric
About 透けません
Color
01. Ivory * Navy ( Ivory x Navy standard )
02. Ivory / black ( Ivory / black standard )
03. Ivory × モクグレー ( Ivory x light grey moderate )
04. Ivory / red ( Ivory x standard red )
05. Ivory x mustard ( Ivory x bright mustard slightly dull )
06. Blue x ivory ( standard blue / ivory )
07. Navy * red ( standard red x Navy standard )
08. Mocha * Navy ( Mocha Brown pale reddish with white x Navy standard )
09. Tricolor
( Ivory x Navy Standard x red standard )
10. Mustard multimedia
( Ivory x bright mustard slightly dull × standard blue x bright reddish brown )
11. Pink multi
( Ivory x dull somewhat pale pink x dark Mocha Brown × somewhat dusky blue )
12 ワイドボーダーネイビー ( Ivory x Navy standard )
13 Wide Bader black ( Ivory / black standard )
14. ワイドボーダーモク gray ( Ivory x light grey moderate )

Related products
Wear and just become a customer. Rustic texture of daily wear will want commitment.
Zootie フレンチボーダーバスク series click here for the full picture!
Men's short sleeve バスクシャツ,7-sleeve バスクシャツalso.
Points to note
• Do not tumble dry. Also, when washing by hand washing please make sure.
▼ may, other clothing dye remains wet for a long time, put in wet friction (friction in particularly wet) and sweat and rain at to.
▼ characteristics on the products, the dough taking positions just some individual differences, such as pattern and nuances, different images and facial expressions. Also does not match the pattern in the seam to necessarily.
• This product is on the characteristics of the material by washing and cleaning slightly shrinks.
▼ Please check also comes with tag described before handling.