ー sore sloppiness! Pattern mix one piece
Spread and become a super sized rectangle,ohana ( Ohana ) plenty of sloppiness Gaultier. Shall I and item is atmosphere is very cute. Gentle color size: sense of cut and sewn material mainly, is at the top stripe pattern, sew the bottom dot pattern fabric (unique: fabrics that) switched to has. Guests can only spread silhouette in soft material is thin so, falling on the line.
---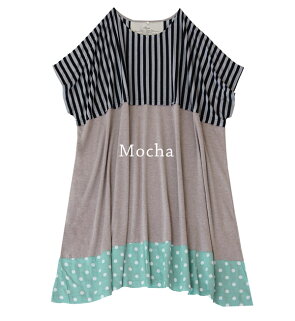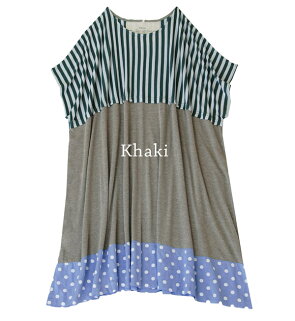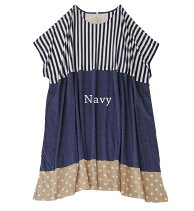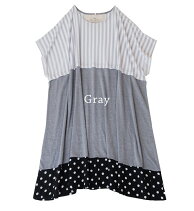 Notation size
"One size fits all."
Actual size
Cm, length 94 cm (measured from shoulder) chest girth approx. 152 cm sleeve length 41 cm.
Cuff approximately 44 cm waist: approx. 158 cm hem around 218 cm
22 Cm low-cut neckline depth 9 cm
* As a standard size please reference products tend to individual differences in size, so.
* Above sizes are our flat place exact size it is. Is different from the notation size value nude ( JIS standard size ) merchandise tags, etc. Click here for details.
Material
Body: 60% cotton 40% polyester
Another fabric 1: polyester 50% viscose 50%
2 Separate fabric: 100% rayon
Washing instructions
Production country
Made in Korea
Lining
Without
Stretch fabric
Dots fabric: do not stretch
Other: the stretch a lot
Sheer fabric
Slightly sheer so inner is required
Color
Mocha
( Black x Mocha Brown and Mint green with light gray / white / off-white )
Khaki
( dark green * light grey / カーキグレー / light blue x off-white )
Navy
( dark blue / off white / Navy blue / yellow beige × off-white )
Gray
( light grey x off white and somewhat dark because of grey/black × off-white )
Charcoal
( Navy × dusky blue and premium newsprint / Navy / off-white )
* ( ) color of border / solid / dot is in the
* Solid portions in common, have moderate

Related products
Ohana ( Ohana ) product list
Points to note
▼ Properties prone to pilling ( hairball ). Please wear where it is and when to remove with scissors.
• Hook, please note so easy catching nature and friction and rough surface, such as during insertion and removal, the accessories, belt and surrounding wall and caught.
▼ remains wet for a long time, put in wet friction (friction in particularly wet) and sweat and rain: and other apparel to decontamination if so please with your mind. Also, wash may dye when washing to separate other things.
▼ may shrink slightly by washing or cleaning on the characteristics of the material in the oblique line (State looks twisted the entire product).
• There may be characteristics on the products, take position of the fabric creates a pattern and nuance slight individual difference, different images and facial expressions.
• Please note that for design on the combination of different materials, using different washing shrinkage.
▼ Please check also comes with tag described before handling.