Back hair with a floral print, リバーシブルパーカー!
C.L.N( シーエルエヌ ) the casual wears, with reversible Parker. Use the thin sweater material woven into sweet. The reversible design wears, in both solid colors and floral designs, floral prints are applied to back hair part of the sweat on the back! is partially used for back hair at cuffs, hem and hood inside when dressed in 無地面 cute atmosphere. Also dressed in floral print on the back of the happy side pockets with solid points.
Silhouette's width of wear and have a nice clear raglan sleeves. 着こなせます in odd-length sleeve refreshing impression.

* Oatmeal through flower looks, crazy design is slightly different.
* When worn on the reversible with tags removed, please use.
---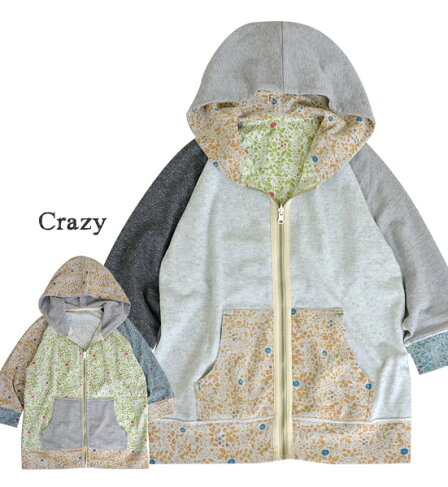 Notation size
"One size fits all."
Actual size
Bust 100 cm length 60 cm sleeve length 58 cm's
Sleeve 24 cm waist: approximately 100 cm around the hem 96 cm
20 Cm low-cut neckline depth 9 cm hood height approx. 37 cm
* Switching shoulders not raglan sleeves design for shoulders, sleeves, armholes the size not indicated.
* Above sizes are our flat place exact size it is. Is different from the notation size value nude ( JIS standard size ) merchandise tags, etc. Click here for details.
Material
Polyester 65% cotton 35%
Washing instructions
Production country
Made in China
Lining
Without
Stretch fabric
The stretch a lot
Sheer fabric
May slightly sheer
Color
Crazy
( Oatmeal × モクグレー × モクチャ call )
[The Oatmeal モクグレー モクチャ call for all floral]
Oatmeal
( whitish strong oatmeal )
[Off-white *, such as light green]
モクグレー
( somewhat strong light gray of NEP )
[To close off white to light gray and orange beige]
モクチャ call
(NEP feeling strong charcoal gray)
[Light grey area x, mint Blue]
* ( ) in is sweat face color.
* [] In the color of the sweat on the back of x is a print and color
* Sweat the surface printing faintly through has.

Related products
There is the same リバーシブルスウェット fabric Maxi skirt
C.L.N( シーエルエヌ ) product list
Points to note
▼ Properties prone to pilling ( hairball ). Please wear where it is and when to remove with scissors.
• Hook, please note so easy catching nature and friction and rough surface, such as during insertion and removal, the accessories, belt and surrounding wall and caught.
▼ remains wet for a long time, put in wet friction (friction in particularly wet) and sweat and rain: and other apparel to decontamination if so please with your mind. Also, wash may dye when washing to separate other things.
▼ may shrink slightly by washing or cleaning on the characteristics of the material in the oblique line (State looks twisted the entire product).
• There may be characteristics on the products, take position of the fabric creates a pattern and nuance slight individual difference, different images and facial expressions.
• By repeated washing with water or cleaning, easy to print is not permanent, or more, to be rubbed and dropped somewhat thinner.
▼ Please check also comes with tag described before handling.