Toggle Cardigan as if like the hanging's Polka dot scarf
ohana ( Ohana ) of the plain x dot diffrence Cardigan. Soft against the skin using soft cotton. Is drooling polka stall front switch design is very unique! 無地面 friendly impression is of moderate and exquisite combination of cute polka-dotted, and use of color very cute items. Long length is coupled with excellent portrait effect! I like Cardigan, a sheet and useful!
---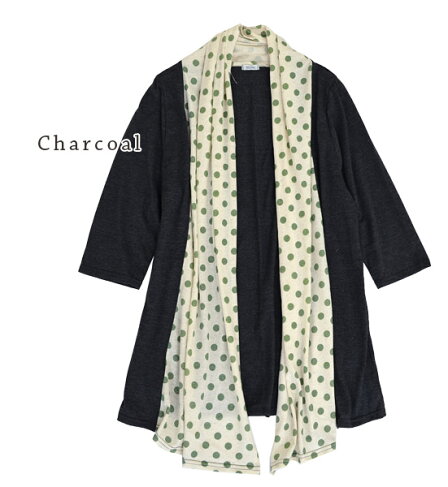 Notation size
"One size fits all" (one size)
Actual size
Bust 94 cm, shoulder width 35 cm cm, length 66 cm approximately 37 cm sleeve length sleeve length 54 cm's
Armhole approx 44 cm sleeve 24 cm waist: 94 cm width dot fabric approximately 31 cm
* Transformation design for the shoulder width, length, girth, West, etc. are standard should be considered.
* Above sizes are our flat place exact size it is. Is different from the notation size value nude ( JIS standard size ) merchandise tags, etc. Click here for details.
Material
Outer fabric: 60% cotton 40% polyester
Another area: 88% cotton 12% linen
Washing instructions
Production country
Made in Korea
Lining
Without
Stretch fabric
The stretch a lot
Sheer fabric
May slightly sheer
Color
Charcoal (Thin green / charcoal grey matte)
Navy (With a bluish tint is gray Navy/Navy)
Gray ( a moderate or dark because of gray × black faded )
ラテ (A moderate fading / dull blue)
* ( ) is solid and dot print color
* Dot parts of color is ivory beige side of moderate, common
Related products
The same plain x dot fabric V Neck T shirt & alsoドルマンプル over
Ohana ( Ohana ) product list
Points to note
▼ Properties prone to pilling ( hairball ). Please wear where it is and when to remove with scissors.
• Hook, please note so easy catching nature and friction and rough surface, such as during insertion and removal, the accessories, belt and surrounding wall and caught.
▼ remains wet for a long time, put in wet friction (friction in particularly wet) and sweat and rain: and other apparel to decontamination if so please with your mind. Also, wash may dye when washing to separate other things.
▼ may shrink slightly by washing or cleaning on the characteristics of the material in the oblique line (State looks twisted the entire product) discoloration.
▼ characteristics on the products, the dough taking positions just some individual differences, such as pattern and nuances, different images and facial expressions. Also does not match the pattern in the seam to necessarily.
▼ Please check also comes with tag described before handling.