Most popular items power up ver.
Famous items that were introduced on Rakuten ranking TV!C.L.N( シーエルエヌ ) ofロングセラーキャミソールwith a halter rope bracelets, like the NEW tank top version appeared! Key to a colorful braided Halter strap parts are installed, small beads. Small, gleaming point casualness, ♪ scantily clad 'neck' design says something seasonal. Use natural, casual, ethnic and also of course in the main item is inner.
Not only it looks cute! Safety wear
Not only cute bracelets Ribbon, it looks pretty talented. Our one-point simply tie at the neck, will decorate the decollete, so look at a glance and GIMP only, no accessories. Since the fixed shoulder strap tank top with halter strap with double comfort also stable. "Little too open?..." use the inner!: big, open-cut tops, solid chest to protect me scary without! Even that one piece has become a wardrobe manure if this CAMI, might be revived! Body is a nicely along the lines of the body, not sluggish extra sizing. With nothing more than sheer fabric of your year.
---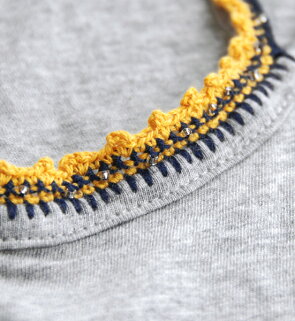 Halter Ribbon under the neck from behind.
Cute neckline adorned with clear beads and colorful hook lace.
Notation size
"One size fits all."
Actual size
Ringtones shoulder width 24 cm bust 70 cm length 66 cm
Armhole 38 cm waist: 66 cm hem around 78 cm
Neckline width 17 cm depth 17 cm low-cut Halter strap length 60 cm
* The size is our open space is the exact size. May differ from the representation of the tags. Click here for details.
Material
100% Cotton
Washing instructions
Production country
Made in China
Lining
Without
Stretch fabric
The stretch a lot
Sheer fabric
May slightly sheer
Color
Yellow ( dilute dingy yellow x red slightly faded, dull green )
Red ( somewhat faded dark red × dark because of Navy and ivory )
Turquoise ( Dark because of blue-green × slightly faded red, pale gray )
モクライト gray ( whitish light gray is gray × blue-green and bright yellow )
モクグレー ( somewhat lighter gray is gray x bright yellow and Dark Navy )
Navy ( Dark order of the Navy × dull green and bright yellow )
Black ( Black standard x slightly faded red and green )
* ( ) in a body x is the Halter neck strap color
* Bead color is common and is a colorless transparent silver core
Related products
S ミサンガホルター series."
The same fabric 100% cotton Camisole ( beads and )
Hemp cotton Camisole (Without the beads) also.
* Depends on the color development, such as
Points to note
• Coated beads embroidered on this product for a very delicate. When worn and detachable fold on watches & accessories-belts, etc. so that you please. If the thread has expired please damaging force.
▼ may stain other clothing when wet with sweat and rain, so be careful! Moreover, by friction wear in fall colors. Please avoid possible combinations layered clothing and white goods etc. Also, please wash and other things.
• String parts production process on a somewhat different length and nuance, at one point one point difference.
• This product, on the characteristics of the material by washing and cleaning slightly shrinks the resulting diagonal line (State looks twisted the entire product).
▼ Properties prone to pilling ( hairball ). Please wear where it is and when to remove with scissors.
▼ Please check also comes with tag described before handling.