Enjoy the ナチュカジ ♪ shirt with lace hem appeared again!
Natural, casual, too cute! Ohana ( Ohana ) The shirt blouse long sleeve-7 min sleeves & color development is a re-appearance! Cha also layering utilizing racing success, and hem as a casual Jacket, of course, is the main items of attraction here is atmosphere ◎. Soft 100% cotton fabric is so you can use long season. Because of a simple design, easier to align the various codes, match the items in various moods.
---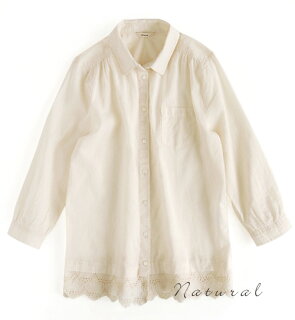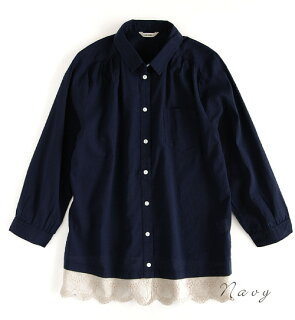 Notation size
"One size fits all."

Actual size
Ringtones shoulder width 36 cm bust 100 cm length 66 cm ( out from the shoulder / lace hem approx. 7 cm )
Sleeve length 48 cm sleeve length approx. 66 cm armholes about 48 cm cuff 22 cm
West approximately 102 cm hem around 102 cm 15 cm low-cut neckline depth is 4 cm
* The size is our open space is the exact size. May differ from the representation of the tags. For more information of the size Click here From.
Material
Body: 100% cotton
Lace: 100% cotton
Washing instructions
Production country
Made in China
Lining
Without
Stretch fabric
Do not stretch
Sheer fabric
May slightly sheer
The * light and see-through especially inner is required
Color
Natural (A slightly yellowish ivory)
Navy (Dark Navy)
* Common, hem lace is ivory
Related products
In the matching Shirt-dress Also available
More natural cute cute item! Ohana ( Ohana ) product list
Points to note
• Race parts are hooked and so easy catching nature and during insertion and removal also friction with rough surface, such as accessories, belt, around the wall and caught Please note.
▼ remains wet for a long time, put in wet friction (friction in particularly wet) and sweat and rain: and other apparel to decontamination if so please with your mind. Also, please wash and other things.
▼ Please check also comes with tag described before handling.