A natural atmosphere, different material substitution tunic
Sew the front of sheer. Pullover in small polka dot cotton fabric (unique: weaving that) switched back. Got to front up on the sleeve is slightly to puff sleeve. So is the size of a loose sleeve even width and wear. Now popular different material switch design, this プチプライス is not to be missed!
---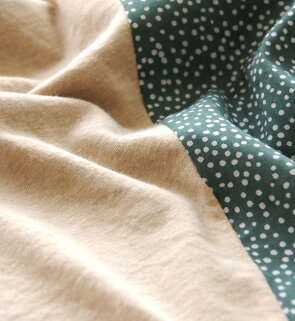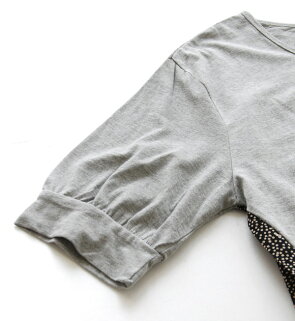 Switched to hand-drawn JDM shirting, cut and sewn fabric soft, sheer fabric.
With your sleeves with gathered cuffs.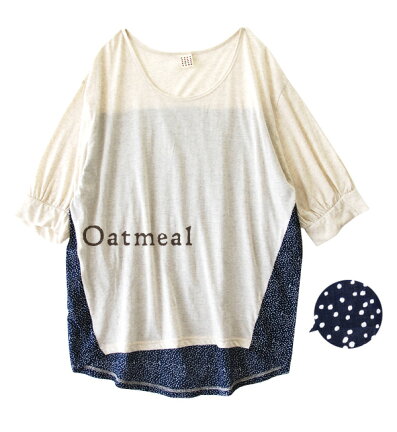 Notation size
"M-L size" (one size)
Bust 79-94 cm 154-162 cm tall
Actual size
Ringtones shoulder width 47 cm chest 116 cm-64-76 cm ( before-measure from the back and shoulders )
Sleeve length 31 cm sleeve length approx. 54 cm armholes about 46 cm cuff approximately 31 cm
Approx. 112 cm waist hem around 112 cm
18 Cm low-cut neckline depth 14 cm
* Above sizes are our flat place exact size it is. Is different from the notation size value nude ( JIS standard size ) merchandise tags, etc. Click here for details.
Material
Body: 100% cotton
Separate fabric: cotton 100%
Washing instructions
Production country
Made in India
Lining
Without
Stretch fabric
Solid parts: the good stretch
Dot portion: do not stretch
Sheer fabric
Somewhat sheer (inner is mandatory) must
Color
Oatmeal ( moderate ivory / dark order of the Navy × off-white )
モクベージュ ( was green for a moderate beige / blue / off white )
モクグレー ( moderate grey / black standard x beige )
* ( ) in is the color of the solid dot parts
Related products
There is aドルマンワン-piece using the same dot pattern fabric
Points to note
▼ This product we are using fabric made in India. Weave will enjoy scratches, dye may be uneven, but as one key feature of each piece different texture.
▼ Properties prone to pilling ( hairball ). Please wear where it is and when to remove with scissors.
• Hook, please note so easy catching nature and friction and rough surface, such as during insertion and removal, the accessories, belt and surrounding wall and caught.
▼ shrink slightly by washing the discolored because always in the car wash please.
▼ so time remains wet for a long time, put in wet friction (friction in particularly wet) and sweat and rain, other clothing to decontamination if you like!
• Subject characteristics on the products, the dough taking positions just some individual differences nuances and attitude of the size, design, different images and facial expressions.
▼ Please check also comes with tag described before handling.