May differ from actual colors pictured above wearing a little. Please see the product pictures below color. Also, if you have any concern, please feel free to contact.
Height 163 cm fading x Orange use: check the code
So-called boobs and deformation, ultra light to UV in Cardigan!
Ultra light Dolman of the form from the shoulder well smiles covering the back, such as the Bolero Cardigan. In the sense of a shawl with sleeves can plus code and feel free to. Using the ライトニット of sheer fabric, knitting is moving in at the top and at the bottom. Decorated makes a special coating, UV resistant through a process. And wear cool, UV protection is universal, right?!
Compact folding, always to make them bear the bag is recommended. During the hot season, comes in handy when you just want to hide arms, too. ♪ cuffs fit and easy-to-adjust the sleeve length to be one of the features. In addition here is up and down is multiplayer design wears, even on both.
---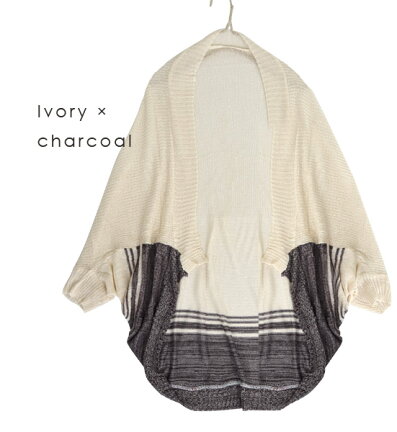 Notation size
"M-size" (one size)
79 – 87 Cm bust 154-162 cm tall
Actual size
Width 90 cm length 80 cm sleeve 5.5 cm sleeve 18 cm
* Transformation design for a flat place to the State, such as a rectangle. At its next measured as the width. Also length is measured with ribbed fabric switch parts vertical length and sleeve length. Please consider as a guide.
* Above sizes are our flat place exact size it is. Is different from the notation size value nude ( JIS standard size ) merchandise tags, etc. Click here for details.
Material
100% Rayon
Washing instructions
Production country
Made in China
Lining
Without
Stretch fabric
The stretch a lot
Sheer fabric
See-through from the stitch
Color
Ivory / charcoal ( Ivory × charcoal ivory mix )
Light gray * Navy ( somewhat dark because of gray × Navy beige mix )
Fading x Orange ( Gray beige × dull red beige mix )

Related products
There is a solid UV ケアボレロ Cardigan
* The specification differs
Points to note
▼ your laundry with dry cleaning please.
▼ What will last forever in the UV care effects is not available. Measure of effectiveness is one season.
▼ and use the very delicate fabrics, hook, please note so easy catching nature and friction and rough surface, such as during insertion and removal, the accessories, belt and surrounding wall and caught.
• Knit nature, just "thread seams" and somewhat "fray", also in shapes and sizes prone individual product is. As you can understand thank you.
• Please use a cleaning NET when washing.
▼ remains wet for a long time, put in wet friction (friction in particularly wet) and sweat and rain: and other apparel to decontamination if so please with your mind. Also, wash may dye when washing to separate other things.
▼ may shrink slightly by washing or cleaning on the characteristics of the material in the oblique line (State looks twisted the entire product) discoloration.
▼ Properties prone to pilling ( hairball ). Please wear where it is and when to remove with scissors.
▼ Please check also comes with tag described before handling.