Dot & border's, loose tunic
Polka dot the border pattern. One piece of a unique design and pattern peeking. ライトニット soft and smooth without hesitation and even fabric has changed.
Design is deceptively simple solid one piece is boldly into the slit from the neck, became the layered pattern fabric to hug! Slit part is, piecing down about 15 cm from the neckline and decorative buttons are mounted on. Because the hem portion and pattern fabric is sew deformation silhouette, offers stable comfort.
Multimedia reception is wears cute, both before then, back to look into the pattern.
---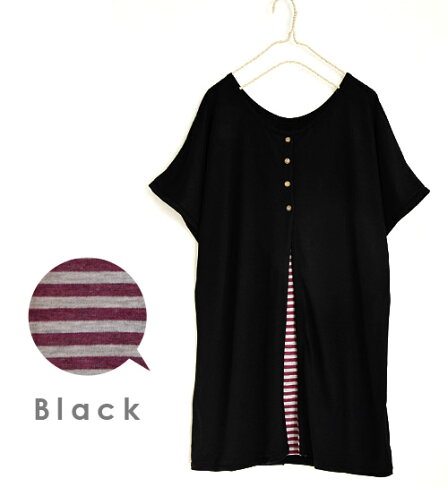 Notation size
"M-size" (one size)
79 – 87 Cm bust 154-162 cm tall
Actual size
Chest cm 120 cm, length 74 cm (measured from shoulder) sleeve length 39 cm's
Cuff approximately 46 cm waist: approx. 120 cm hem around 118 cm
22 Cm low-cut neckline depth 10 cm
* This item is not represented is the size of the shoulders, sleeves, armholes tailoring on the switch of the shoulder is not design for the.
* The size is our open space is the exact size. May differ from the representation of the tags. Click here for details.
Material
Body: polyester 95% polyurethane 5%
Separate fabric: polyester 65% cotton 35%
Washing instructions
Production country
Made in China
Lining
Without
Stretch fabric
The stretch a lot
Sheer fabric
Somewhat sheer (inner is mandatory) must
Color
Black ( Black standard/モクグレー × border Engineering Co., Ltd. )
Navy ( Dark order of the Navy and Mocha Brown x beige dots )
Beige ( Mocha Brown and grey-green × beige dots )
Salmon pink ( Dark because of the サーモンピンク/モクグレー × charcoal gray border )

Points to note
▼ button of the back part is ornament.
▼ remains wet for a long time, put in wet friction (friction in particularly wet) and sweat and rain: and other apparel to decontamination if so please with your mind. Share with others, Please launder. It is recommended from the once washed we use.
• This product, on the characteristics of the material by washing and cleaning slightly shrinks the resulting diagonal line (State looks twisted the entire product).
• Property 毛羽立ったり by friction and prone to hairballs. Please wear where it is and when to remove with scissors.
▼ and use very soft delicate fabrics, hook-so easy catching nature and during insertion and removal also friction and rough surface, such as accessories, belt, around the wall and caught on Please note.
▼ characteristics on the products, the dough taking positions just some individual differences, such as pattern and nuances, different images and facial expressions. Also does not match the pattern in the seam to necessarily.
▼ Please check also comes with tag described before handling.