ドロップショルダーカーデ back V neck
Back neckline collar to V poop open letter, cut and sewn fabric around a soft Cardigan. Directly touching the skin nicely, excellent elasticity. In the back of the neckline V-shaped part with decorative buttons.
By bringing shoulders position leaning forward and back also enjoy a different atmosphere and silhouette, the change drop shoulder condition. Is the item feels Yul pod room somewhere.
---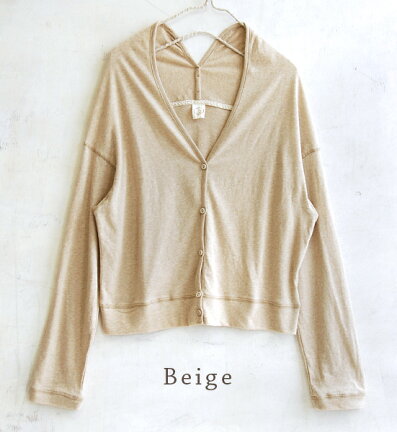 Notation size
"M-L size" (one size)
Bust 79-94 cm 154-162 cm tall
Actual size
Ringtones shoulder 53 cm bust 96 cm, length 43 cm sleeve length 50 cm
Sleeve length 76.5 cm armholes about 40 cm cuff 22 cm hem around 88 cm
* Transform design with outer shoulder switchable, so the shoulders, sleeves and armholes as referring to please.
* Designs by guiding changes to the size of the neckline is so transcribed neckline width and depth.
* The size is our open space is the exact size. May differ from the representation of the tags. Click here for details.
Material
Body: 100% cotton
Lace: 100% cotton
Washing instructions
Production country
Made in China
Lining
Without
Stretch fabric
The stretched nicely
Sheer fabric
May slightly sheer
Color
Beige ( yellow strong べージュ )
モクグレー (light gray is gray)
Navy (Navy Blue feel dark,)
* Races is common, off-white
Points to note
▼ remains wet for a long time, put in wet friction (friction in particularly wet) and sweat and rain: and other apparel to decontamination if so please with your mind. Also, please wash and other things.
• This product, on the characteristics of the material by washing and cleaning slightly shrinks the resulting diagonal line (State looks twisted the entire product).
▼ We are using facial expressions seen brushed feel and fluffiness of rich fabrics. There is a characteristic surface looks like a pilling ( hairball ) enjoy as the texture of the product.
▼ Please check also comes with tag described before handling.