May differ from actual colors pictured above wearing a little. Please see the product pictures below color. Also, if you have any concern, please feel free to contact.
Height 159 cm Brown x black use: check the code
Skills and enjoy the arrangement in the design bordered piece
Popular arts and re-appeared in the autumn color-conscious one-piece new colors! Is seemingly a simple border dress, enjoy various arrangements in fact attached to both sides of point. I'm on horizontal deformation silhouette taken up plenty of fabric around his waist and spread the skirt part (lower than the waist position) is too. Is the Ribbon tied on both sides, so tying in front by tying at the back, enjoy the arrangements in the manner of the apron. Also bear the Ribbon hanging untouched, and wear plenty of ryuk in the drape ◎. It is hit twice, the stripes one piece.
---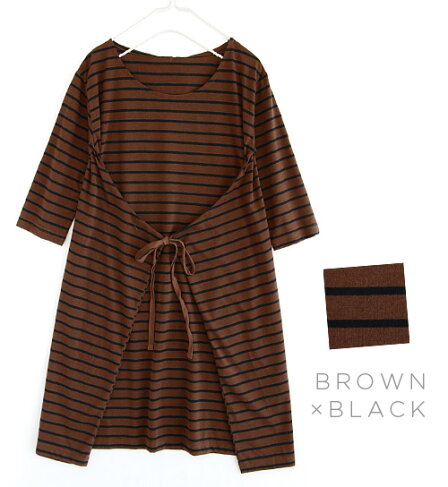 Notation size
"M-size" (one size)
79 – 87 Cm bust 154-162 cm tall
Actual size
Ringtones shoulder 41 cm bust 98 cm length 83 cm (measured from shoulder)
Sleeve length 35 cm sleeve length 55.5 cm armholes about 34 cm
Cuff 22 cm waist 84-176 cm hips 90-176 cm
22 Cm low-cut neckline depth 12 cm
When tie waist * hip and waist-size spread is.
* The size is our open space is the exact size. May differ from the representation of the tags. Click here for details.
Material
Polyester 65% cotton 35%
Washing instructions
Production country
Made in China
Lining
Without
Stretch fabric
The stretch a lot
Sheer fabric
May slightly sheer
Color
Brown / black ( milk tea Brown x black standard )
Beige × dark purple ( of khaki drab beige / dark purple )
Navy / green ( Dark because of Navy x white with green )
Black x Brown ( Black standard x milk tea Brown )
* ( ) in a body x is the color of the border

Points to note
▼ remains wet for a long time, put in wet friction (friction in particularly wet) and sweat and rain: and other apparel to decontamination if so please with your mind. Also, please wash and other things.
• This product, on the characteristics of the material by washing and cleaning slightly shrinks the resulting diagonal line (State looks twisted the entire product).
• Prone to pilling ( hairball ), fluffing by friction on the nature, characteristics. Please wear where it is and when to remove with scissors.
• Product characteristics on the border pattern is taking position of the fabric creates just some individual differences, such as pattern and nuances, different images and facial expressions. Also does not match the pattern in the seam to necessarily.
▼ Please check also comes with tag described before handling.