May differ from actual colors pictured above wearing a little. Please see the product pictures below color. Also, if you have any concern, please feel free to contact.
Height approx. 160 cm khaki use: check the code
Skirt & オシャレワンピ now!
Switch design is like wearing a one piece. This year, where the top seven minutes long Sleeve Tee, skirt is fresh specifications changed to the natural border pattern.
In one effortless Chin code completion. different material switch one-piece
Pickles soft and moderate with plenty of cut and sewn materials, neckline is accented top part. Skirt is a gauze weave of rich material. 波打ちます slightly gently. No tightening of overall ユルめ of coordination completed in one piece and silhouette, so feel free to 着こなせて and Oh, what fun Chin! It will become a strong ally to the transition in the lowest position in girl with a natural sense of atmosphere, poor coordination.
---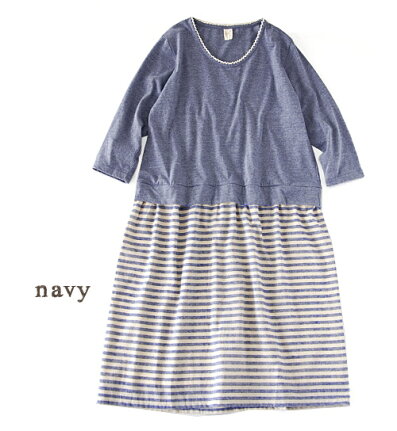 Notation size
"M-L size" (one size)
Bust 79-94 cm 154-162 cm hips 87-100 cm
Actual size
Ringtones shoulder 37 cm bust 98 cm length 97 cm ( out skirt part 48 cm )
Sleeve length 40 cm sleeve length 59 cm armholes about 40 cm cuff 22 cm
West approximately 108 cm hip approx. 132 cm 20 cm low-cut neckline depth is approx. 12 cm
* The size is our open space is the exact size. May differ from the representation of the tags. Click here for details.
Material
Body fabric: 60% cotton 40% polyester
Skirt: 100% cotton.

Washing instructions
Production country
Made in China
Lining
Polyester 100% (non-solid ivory with a slightly shiny stretch material)
* Skirt only
Stretch fabric
Body parts: the good stretch
Skirt portion: do not stretch

Sheer fabric
Body parts: slightly sheer may
Skirt parts: slightly sheer may
* Inner with recommended the

Color
Navy ( Japanese Navy faded × off-white, thin Navy )
Gray ( light gray * off-white, thin black )
Khaki ( strong grey beige gray * off-white and pale grey beige )
* ( ) in a body part x is the color of the skirt portion
Are common, there are moderate body parts

Related products
C.L.N( シーエルエヌ ) product list
Points to note
▼ may shrink slightly by washing or cleaning on the characteristics of the material in the oblique line (State looks twisted the entire product).
▼ remains wet for a long time, put in wet friction (friction in particularly wet) and sweat and rain: and other apparel to decontamination if so please with your mind.
▼ seperately because it may be discolored when washing the other, washing area.
▼ characteristics on the products, the dough taking positions just some individual differences, such as pattern and nuances, different images and facial expressions. Also does not match the pattern in the seam to necessarily.
• Friction pilling ( hairball ) totono, characteristics, prone to hairballs or balls. Please wear where it is and when to remove with scissors.
▼ Please check also comes with tag described before handling.