Roughly photono over cool.
In a thinner knit knitting photono over seasons built the perfect closet w ( ダブルクローゼット ) . Reception is roughly tenjiku knit the back plane are designed in expressive crocheted ribbing. Has become a drop of width a wide shoulder, front silhouettes will front up a bit. Wear loose, is under the impression it is sheer clutter-着こなせます.
---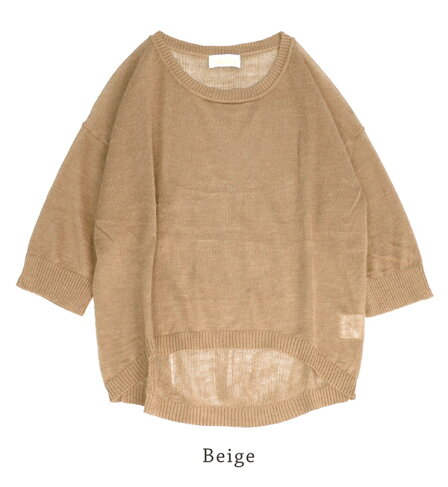 Notation size
"One size fits all."
Actual size
Bust 108 cm, shoulder width 54 cm overall length 47-58 cm ( front-measuring from the back and shoulders )
Sleeve length 27 cm sleeve length approx. 54 cm arm holes approximately 32 cm sleeve 21 cm
Waist 104 cm hem around 100 cm
19 Cm low-cut neckline depth 7 cm
* Knit to size slight individual difference arises. Notation size should be considered approximate.
* Above sizes are our flat place exact size it is. Is different from the notation size value nude ( JIS standard size ) merchandise tags, etc. Click here for details.
Material
100% Hemp
Washing instructions
Production country
Made in China
Lining
Without
Stretch fabric
The stretch a lot
Sheer fabric
See-through from the stitch (inner is required)
Color
Beige ( Dark because of the beige )
ダークコーラル ( dark pink to brownish )
Dark blue (Dull blue like faded)
Green (Slightly dull green)

Related products
( ダブルクローゼット ) w closet product list
Points to note
▼ your laundry with dry cleaning please.
• This product we use hemp. Characteristics on the belief that many color-weaving village there are some things that please enjoy texture of its own products as a product feature.
• Knit nature, just "thread seams" and somewhat "fray", also in shapes and sizes prone individual product is. As you can understand thank you.
• This product is used very delicate material. Join the vigorous and strong force and open seams, eyes slippage has to nature (weaving yarn open slip eye). Trap when wearing a belt, buckle and detachable watches, rings, etc. by the frictional strength of ground such as 10 minutes please be careful.
▼ Properties prone to pilling ( hairball ). Please wear where it is and when to remove with scissors.
▼ remains wet for a long time, put in wet friction (friction in particularly wet) and sweat and rain: and other apparel to decontamination if so please with your mind.
▼ may shrink slightly by cleaning on the characteristics of the material in the oblique line (State looks twisted the entire product).
▼ Please check also comes with tag described before handling.