To incorporate little casual when I logo Tee
Items with a sense of 'now' dining casual, based on simple not too biased to casual girly girl collection and street trends, incorporated into the design work we propose w closet ( ダブルクローゼット ) t-shirt. Is a ribbed neckline, cuffs and hem switched between sweatshirts T shirts like design. ロックステッチ side line, or become uneven in the front and back hem ◎. Can be used any coordination with the カレッジロゴ prints vintage. Loose-fitting bodice and sew the thickness sense of security is so relaxed and wear.
---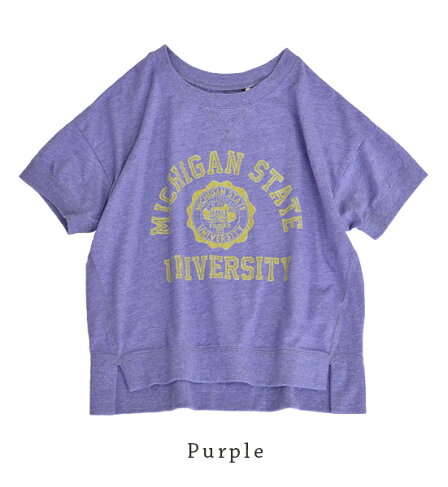 Notation size
"One size fits all."
Actual size
Ringtones shoulder width 52 cm bust 100 cm length approx. 51-55 cm ( front-measuring from the back and shoulders )
Cm, sleeve length 12 cm sleeve length 38 cm 38 cm arm holes cuff approximately 28 cm
Waist: 98 cm 18 cm low-cut neckline depth 7 cm
* Deformation design switching shoulders with pretty outside, so the shoulders, sleeves and armholes as referring to please. Also because the armholes are measure switching part is the arm size.
* Above sizes are our flat place exact size it is. Is different from the notation size value nude ( JIS standard size ) merchandise tags, etc. Click here for details.
Material
Body: polyester 65% cotton 35%
Telecom parts: polyester 65% cotton 35%
Washing instructions
Production country
Made in China
Lining
Without
Stretch fabric
The stretch a lot
Sheer fabric
May somewhat transparent ( inner with the )
Color
Purple ( with moderate White Navy blue x dull yellow )
Lime yellow ( lemon yellow x blue gray )
Smoked blue ( thin somewhat dusky blue x ivory )
Gray ( thin grey / ivory )
* ( ) in a body x is a color print
Related products
NEW YORK CITY T shirt of the same silhouette &BELINGHAM PHYSICAL t-shirt
( ダブルクローゼット ) w closet product list
Points to note
▼ remains wet for a long time, put in wet friction (friction in particularly wet) and sweat and rain: and other apparel to decontamination if so please with your mind. Also, please wash the infection when washing you may share and other things.
▼ may shrink slightly by washing or cleaning on the characteristics of the material in the oblique line (State looks twisted the entire product).
• Easier to fall out and print is not permanent, or more, to be rubbed, also repeat the washing and cleaning by slightly thinner. Also please avoid ironing to the printed piece.
▼ Properties prone to pilling ( hairball ). Please wear where it is and when to remove with scissors.
▼ Please check also comes with tag described before handling.