タンクワンピ shimmering three-dimensional star pattern & Moon pattern
Puffy metallic I-one piece, painted sky pattern of stars and moon printw closet ( ダブルクローゼット ) . Is a re-appearance, and then add a new color as early as.
Feminine high waist position placed gather into switching. Compact sizing is so easy to slip cardigans and hoodies, pants and code ◎. Versatile is enjoyed. Also easy to cut and sewn like gentlemen, ultra thin mini back hair sweater material, so all season use fabric.
---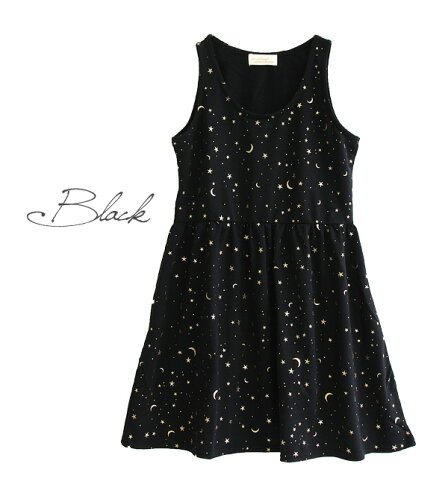 Notation size
"One size fits all."
Actual size
Ringtones shoulder width 24 cm bust 82 cm length 80 cm ( head and shoulders out of circuit from switching down approximately 44 cm )
Armhole 38 cm waist: 68 cm hem around 160 cm
19 Cm low-cut neckline depth 14 cm
* Slight individual difference is seen by the date of production
* Above sizes are our flat place exact size it is. Is different from the notation size value nude ( JIS standard size ) merchandise tags, etc. Click here for details.
Material
Polyester 65% rayon 35%
Washing instructions
Production country
Made in China
Lining
Without
Stretch fabric
The stretch a lot
Sheer fabric
Slightly sheer so inner is required
Color
Black (Standard black)
Gray (Somewhat tinged with beige light grey)
モクグレー(moderate strong light grey)
モクブルー (A moderate purplish blue)
* Common in the print part of your color is whitish gold
* In our Maker tag 'grey' product as a 'モクグレー' sells.

Related products
The same fabric Culottes , zip up parka
* Different from the color palette
( ダブルクローゼット ) w closet product list
Points to note
• Slight individual difference is seen size depending on the production time.
• Foil prints are used in this product. Print peels off with repeated washing and wearing and tearing, etc. occurs. Also please avoid ironing to the printed piece. Enjoy texture of its own products, but may have individual prints tints.
▼ Properties prone to pilling ( hairball ). Please wear where it is and when to remove with scissors.
• Hook, please note so easy catching nature and friction and rough surface, such as during insertion and removal, the accessories, belt and surrounding wall and caught.
▼ remains wet for a long time, put in wet friction (friction in particularly wet) and sweat and rain: and other apparel to decontamination if so please with your mind. Also, wash may dye when washing to separate other things.
▼ may shrink slightly by washing on the characteristics of the material in the oblique line (State looks twisted the entire product) discoloration.
▼ Please check also comes with tag described before handling.