Photono over the cool gradient
Beautiful gradient varying pattern crochet w closet ( ダブルクローゼット ) photono over. Short sleeve summer ver...., is a re-appearance.
Full width of drop shoulder this year seems to silhouette sukkiri shorter length of wear. It is because there are plenty of sheer fun playing with inner color and pattern.
---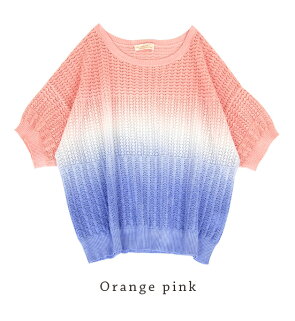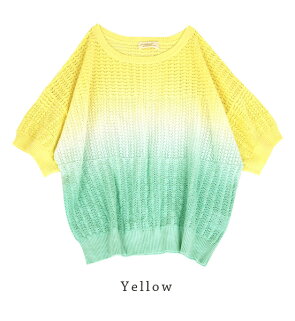 Notation size
"One size fits all."
Actual size
Ringtones shoulder width 60 cm chest 116 cm, length 53 cm (measured from shoulder) cm, sleeve length 14 cm
Sleeve length 44 cm armholes about 40 cm cuff approximately 28 cm waist: 102 cm
Around the hem approx. 84 cm 20 cm low-cut neckline depth 8 cm
* Knit to size slight individual difference arises. Notation size should be considered approximate.
* Deformation design switching shoulders with pretty outside, so the shoulders, sleeves and armholes as referring to please. Also because the armholes are measure switching part is the arm size.
* The size is our open space is the exact size. May differ from the representation of the tags. Click here for details.
Material
100% Cotton
Washing instructions
Production country
Made in China
Lining
Without
Stretch fabric
The stretch a lot
Sheer fabric
すけます from stitches
Color
Orange pink (Light blue coral pink – off white - purple side)
Yellow (Lemon yellow - off-white -)
* ( ) is in the top - middle - bottom gradient color
Related products
( ダブルクローゼット ) w closet product list
Points to note
▼ your laundry with dry cleaning please.
• This product is obtained represents the distinctive tones on stage. But there are differences in the position of one point color concentration and dye-enjoy as a characteristic of the product.
• Knit nature, just "thread seams" and somewhat "fray", also in shapes and sizes prone individual product is. As you can understand thank you.
▼ Properties prone to pilling ( hairball ). Please wear where it is and when to remove with scissors.
• This product is used very delicate material. Join the vigorous and strong force and open seams, eyes slippage has to nature (weaving yarn open slip eye). Trap when wearing a belt, buckle and detachable watches, rings, etc. by the frictional strength of ground such as 10 minutes please be careful.
▼ remains wet for a long time, put in wet friction (friction in particularly wet) and sweat and rain: and other apparel to decontamination if so please with your mind.
▼ may shrink slightly by cleaning on the characteristics of the material in the oblique line (State looks twisted the entire product).
Note • easy to grow due to the nature of the material, including the hanger scant stability of such dimensions and shape that please.
▼ Please check also comes with tag described before handling.