Big alphabetwappen cute spring knitting
Cute alphabet chest patch,w closet ( ダブルクローゼット ) photono over. Drop shoulder silhouette and tactfully clear short length is a compact impression, and will cover the body line. That can be worn in shirt, sheer rayon blend knit material perfect for spring! is perfect for enjoying a fashionable colour matching range of bright colours and emblem and colors this season.
---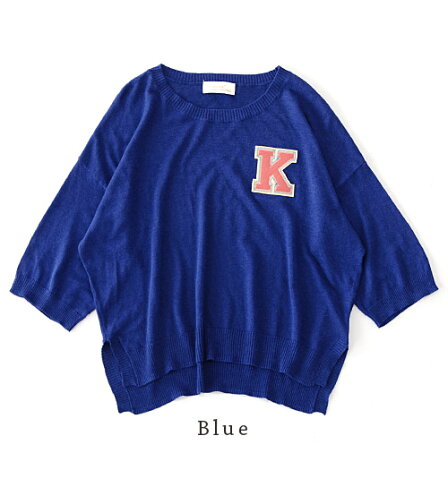 Notation size
"One size fits all."
Actual size
Bust 108 cm, shoulder width 54 cm overall length 47-51 cm ( front-measuring from the back and shoulders ) sleeve length 23 cm
Sleeve length 50 cm armholes 36 cm sleeve 23 cm waist: approx. 100 cm
Hem around 82 cm 16 cm low-cut neckline depth 7 cm
* Knit to size slight individual difference arises. Notation size should be considered approximate.
* The size is our open space is the exact size. May differ from the representation of the tags. Click here for details.
Material
Rayon 60% cotton 40%
Washing instructions
Production country
Made in China
Lining
Without
Stretch fabric
The stretch a lot
Sheer fabric
Slightly sheer so inner is required
Color
Blue ( Old Navy blue x dull Orange )
Rose pink ( dark pink x Green )
Yellow ( dull yellow x dark )
Light orange ( somewhat white with fluorescent orange * blue )
* ( ) in a body x is the color of the badge
Related products
Also the same design Cardigan
( ダブルクローゼット ) w closet product list
Points to note
▼ your laundry with dry cleaning please.
• Knit nature, just "thread seams" and somewhat "fray", also in shapes and sizes prone individual product is. As you can understand thank you.
▼ Properties prone to pilling ( hairball ). Please wear where it is and when to remove with scissors.
• This product is used very delicate material. Join the vigorous and strong force and open seams, eyes slippage has to nature (weaving yarn open slip eye). Trap when wearing a belt, buckle and detachable watches, rings, etc. by the frictional strength of ground such as 10 minutes please be careful.
▼ remains wet for a long time, put in wet friction (friction in particularly wet) and sweat and rain: and other apparel to decontamination if so please with your mind.
▼ may shrink slightly by cleaning on the characteristics of the material in the oblique line (State looks twisted the entire product).
▼ Please check also comes with tag described before handling.