The thermostat to wrapped around recommended denim shirt
Processing of Hickory stripe denim boasts and unusual color scheme of two-color deployment re-appeared in the the w closet ( ダブルクローゼット )ライトデニム shirt. In the width you can afford moderately is a simple silhouette. It is of a soft fabric as a casual Jacket is easy to use, feel free to wear.
---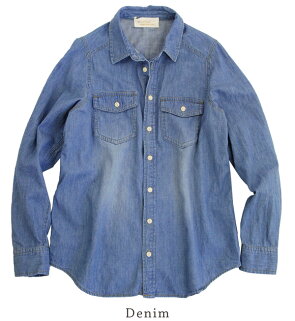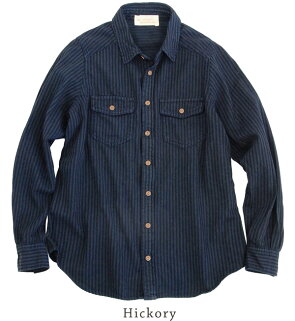 Notation size
"One size fits all."
Actual size
Cm, length 64 cm bust 98 cm, shoulder width 35 cm sleeve length 59 cm
Sleeve length 76.5 cm armholes about 39 cm 19 cm cuff
Hem around 104 cm collar around about 39 cm
* Above sizes are our flat place exact size it is. Is different from the notation size value nude ( JIS standard size ) merchandise tags, etc. Click here for details.
Material
100% Cotton
Washing instructions
Production country
Made in China
Lining
Without
Stretch fabric
Do not stretch
Sheer fabric
透けません
Color
Denim (A wash of faded pale blue)
Hickory ( dark blue / dark blue-green striped )

Related products
( ダブルクローゼット ) w closet product list
Points to note
▼ seperately so you lose the color, other, wash with washing machine.
▼ remains wet for a long time, put in wet friction (friction in particularly wet) and sweat and rain: and other apparel to decontamination if so please with your mind
▼ may shrink slightly by washing or cleaning on the characteristics of the material in the oblique line (State looks twisted the entire product).
• There may be characteristics on the products, take position of the fabric creates a pattern and nuance slight individual difference, different images and facial expressions.
▼ Indigo dyeing is "denim". Natural texture will wash and each to enjoy distinctive color variation. Also has a special process for producing a unique, product is little point by point look different. Enjoy as a product unique texture.
▼ "Hickory" is a unique texture to overdue treatment is applied. At one point one point look different, some distortion and size variation. Also, increase washing times, comes out of fading, but enjoy as a characteristic of the product.
▼ Please check also comes with tag described before handling.