Full width raglan sleeves color knit.
Walnut is the touch firmly designed with gentle color scheme w closet ( ダブルクローゼット ) knitwear. Loose raglan sleeves design width of the sleeve is by color. Cm, length is a little short, so easy to take balance, easy coat outerwear is a simple silhouette, so wear turning force.
---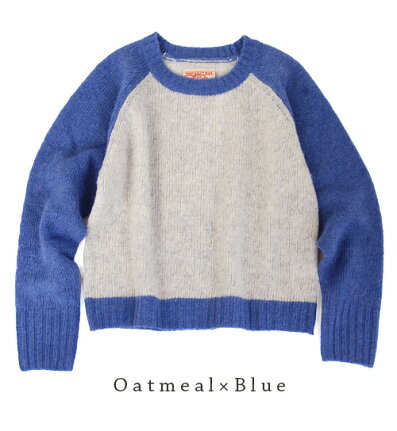 Notation size
"One size fits all."

Actual size
Bust 100 cm cm, length 53 cm sleeve-75 cm, length 19 cm cuff
Waist: 98 cm 15.5 cm low-cut neckline depth 9 cm
* Knit to size slight individual difference arises. Notation size should be considered approximate.
* Switching shoulders not raglan sleeves design for shoulders, sleeves, armholes the size not indicated.
* The size is our open space is the exact size. May differ from the representation of the tags. Click here for details.
Material
Wool 96% nylon 4%
Washing instructions
Production country
Made in China
Lining
Without
Stretch fabric
The stretch a lot
Sheer fabric
(* Inner required is) be transparent
Color
Oatmeal x blue
( a bit gray-ivory x thin blue tinged with a little Navy )
Yellow x oatmeal
( tender lemon yellow × your colors such as ivory tinged with a little gray )
Light beige / pink
( reddish light beige × somewhat strong reddish pink )
* ( ) in a bodice × is the color of the sleeve

Related products
The same knit and scheme design
Cardigan & photono over as well.
Points to note
▼ your laundry with dry cleaning please.
• Knit nature, just "thread seams" and somewhat "fray", also in shapes and sizes prone individual product is. As you can understand thank you.
▼ so time remains wet for a long time, put in wet friction (friction in particularly wet) and sweat and rain, other clothing to decontamination if you like!
• Materials, please note that fiber on the trap-prone, so wear and removal when the fold on watches & accessories-belts, etc.. There are characteristics or other fiber blend looks like hairballs and prone to pilling ( hairball ). Please wear where it is and when to remove with scissors.
Note • this product easy to grow due to the nature of the material, in the hanger, etc after the poor stability such as dimensions, shape that please.
▼ Please check also comes with tag described before handling.