May differ from actual colors pictured above wearing a little. Please see the product pictures below color. Also, if you have any concern, please feel free to contact.
Height approx. 160 cm ivory use: check the code
w closet×Zootie second collaboration!
Items with a sense of 'now' dining casual, based on simple not too biased to casual girly girl collection and street trends, incorporated into the design work we propose w closet ( ダブルクローゼット ). This time, collaboration items such ダブルクローゼット and our original brand Zootie ( ズーティー ) Second Edition is now available! Ron Tee w closet gained popularity because the specification of printing and sleeve have been deployed carefully print shop, appeared as a completely separate note item. In the finished texture of faded vintage-inspired Print method will stuck!
Girls easy to use a silhouette
Solid casual and a tight girl items. NEP dough with plenty of light and color in friendly impression to me. Sheer fabric with soft, delicate Ms! 着こなせます in the Petite Ms. harder 着膨れ refreshing impression. Please enjoy the casual MIX code!
---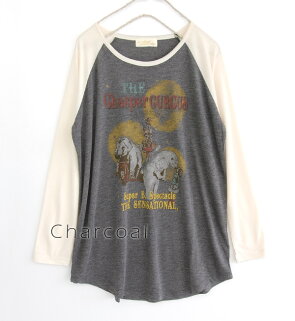 Notation size
"One size fits all."
Actual size
Chest 102 cm length 63-71 cm ( shoulder measurements and side-Central ) sleeve length approx. 73 cm
Sleeve 19 cm 102 cm waist hem around 106 cm
Approx. 21 cm wide-cut neckline depth 9 cm
* Switching shoulders not raglan sleeves design for shoulders, sleeves, armholes the size not indicated.
* The size is our open space is the exact size. May differ from the representation of the tags. Click here for details.
Material
Polyester 65% rayon 35%
Washing instructions
Production country
Made in China
Lining
Without
Stretch fabric
The stretch a lot
Sheer fabric
Somewhat sheer (inner is mandatory) must
Color
Ivory
( Ivory x a moderate charcoal grey / light-purple, Orange, green, grey, etc. )
Charcoal
( moderate charcoal grey x ivory / yellow, red, green, light grey, etc. )
* ( ) in a bodice x sleeves and print color
Related products
Collaboration with our original brand items
w closet ( ダブルクローゼット ) × list Zootie ( ズーティー )
Points to note
▼ remains wet for a long time, put in wet friction (friction in particularly wet) and sweat and rain: and other apparel to decontamination if so please with your mind. Also, please wash the infection when washing you may share and other things.
▼ may shrink slightly by washing or cleaning on the characteristics of the material in the oblique line (State looks twisted the entire product).
• Easier to fall out and print is not permanent, or more, to be rubbed, also repeat the washing and cleaning by slightly thinner. Also please avoid ironing to the printed piece.
▼ Properties prone to pilling ( hairball ). Please wear where it is and when to remove with scissors.
▼ Please check also comes with tag described before handling.