Different ゲージバイ colour trend knit clothing
Short-sleeved pullover with combination of different gauges, such as have layered look knit w closet ( ダブルクローゼット ) . At the front of the bodice and cuffs are loosely braided cable. The back side and sleeve design in knit with slightly squinted eyes. Bi-color trends this year has 2 colors and borders different pitch x you can choose from three types of borders. Silhouette is fairly basic. Loose outer also easy to slip the drop shoulder, so ringtones turning force even ◎.
---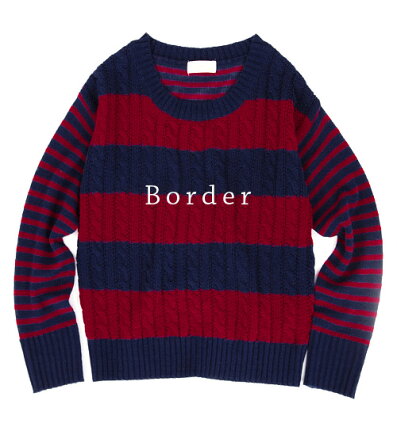 Notation size
"One size fits all."
Actual size
Chest 96 cm, shoulder width 48 cm cm, length 52 cm sleeve length 51 cm sleeve length approx. 75 cm's
Armhole approximately 37 cm sleeve 19 cm waist 92 cm hem around approx. 84 cm
16 Cm low-cut neckline depth 10 cm
* Knit to size slight individual difference arises. Notation size should be considered approximate.
* The size is our open space is the exact size. May differ from the representation of the tags. Click here for details.
Material
Acrylic 15% 85% wool
Washing instructions
Production country
Made in China
Lining
Without
Stretch fabric
The stretch a lot
Sheer fabric
See-through from the stitch (inner is required)
Color
Border ( strong navy blue x Red )
モクグレー ( somewhat moderate and a standard gray × black )
Camel ( of yellowish light brown x black )

Related products
There is a row & Higazy toggle knit Cardigan
* Different from the color palette
Points to note
▼ your laundry with dry cleaning please.
• Knit nature, just "thread seams" and somewhat "fray", also in shapes and sizes prone individual product is. As you can understand thank you.
▼ Properties prone to pilling ( hairball ). Please wear where it is and when to remove with scissors.
• Materials, please note that fiber on the trap-prone, so wear and removal when the fold on watches & accessories-belts, etc..
▼ remains wet for a long time, put in wet friction (friction in particularly wet) and sweat and rain: and other apparel to decontamination if so please with your mind. Also, please wash the infection when washing you may share and other things.
▼ may shrink slightly by washing or cleaning on the characteristics of the material in the oblique line (State looks twisted the entire product).
Note • easy to grow due to the nature of the material, including the hanger scant stability of such dimensions and shape that please.
▼ Please check also comes with tag described before handling.