Natural cotton waist transition Maxi
Maxi dresses made with coarsely ground sense of expressive スラブネップ fabric w closet ( ダブルクローゼット ) . West position switch and gather plenty of women and creates beautiful Chair and crisp lines. Can also belt loop is attached to switch parts, further narrow the silhouette with the supplied string:. And strings mix lame thread alone Ribbon tie also, wrapped as it makes accent!
Sizing a tactfully, Dolman sleeve. Sheer, soft top fabric is so relaxing and 着こなせます.
---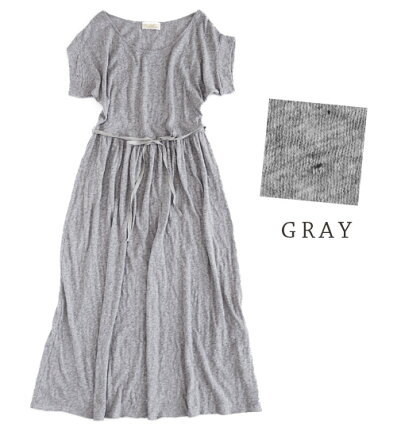 Notation size
"One size fits all."
Actual size
Bust 90 cm length 119 cm sleeve length 23 cm cuff 34 cm
Approximately 120 cm waist 80 cm (switch position) hip
Approx. 26 cm wide-cut neckline depth 12 cm
* This item is not represented is the size of the shoulders, sleeves, armholes tailoring on the switch of the shoulder is not designed for.
* The size is our open space is the exact size. May differ from the representation of the tags. Click here for details.
Material
100% Cotton
Washing instructions
Production country
Made in China
Lining
Without
Stretch fabric
The stretched nicely
Sheer fabric
May slightly sheer
* Dimmed are see-through, so inner required
Color
Gray ( thin gray marbled ivory )
Beige ( in off-white marbled gray )
Brown ( in dark brown Mocha Brown marbled )
* Comes with waist strap is in the main body of similar colors gold lamé-yarns mix
Related products
There are orchestrated in the same sense of NEP cloth material Maxi skirt
* Color may vary
Points to note
▼ remains wet for a long time, put in wet friction (friction in particularly wet) and sweat and rain: and other apparel to decontamination if so please with your mind. Also, please wash and other things.
• This product, on the characteristics of the material by washing and cleaning slightly shrinks the resulting diagonal line (State looks twisted the entire product).
▼ We are using facial expressions seen brushed feel and fluffiness of rich fabrics. There is a characteristic surface looks like a pilling ( hairball ) enjoy as the texture of the product.
▼ Please check also comes with tag described before handling.